This is pretty much hot off the oven!  😛
Yeah, I took my Individual Physical Proficiency Test (IPPT)* about 6 hours ago and under the new enhanced format with just 3 stations, I managed to clinch a Silver. So you can say I did meet my belated 2014 goal. (I am not a hypocrite!)
====================
The New IPPT Format
To achieve a pass under the new system, one would only have to accumulate 51 points (maximum of 25 points for push-ups and sit-ups respectively, maximum of 50 points for the 2.4km run) and ensure scoring at least 1 point for each of the 3 stations. Seriously, that's not going to pose much difficulties for 90% of the participants?
Therefore, I would argue that Silver is now actually the bare minimum I (a person who exercises regularly) should achieve. In fact, before 27 Feb, I was setting my sights on getting a Gold (which also comes with $400). 81 points was really within my reach but then, SAF shifted the goalposts. 81 points became 86 points. Urgh…
As my cycle that started last year would close at the end of this month (oh no, another year older), 86 points proved too huge a hurdle for me to clear within such a short time.
My take on the new Push-Up Station
I was quite apprehensive about this new push-up station as I had heard some rumours that the assessment was going to be very strict and there would be plenty of "no-counts". But these fears proved to be unfounded, at least for me.
I managed to do a respectable 42 push-ups within like 50 seconds? The last 5 were pretty much a struggle and I doubt I could get 3 more "standard" ones for the next point. In fact, the assessors were pretty lenient and during my observation, "no counts" were only shouted if the arms were quite far from being fully-extended and the back was obviously over-extended (i.e. buttocks too high up or too low down).
So for those with similar worries as me, I guess fret not.
My Results
To be honest, I was quite reluctant with publishing my results. Afterall, every Singaporean son understands that the new system is much less stringent than the previous one that most of us grew up with. No more chin-ups, no more broad jumps. 
So Silver wasn't actually a great achievement, especially after looking at the detailed results below.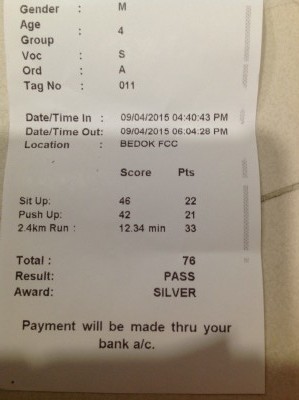 Yeah, it's the running.  😳 
For a person who runs every week, I am actually quite ashamed of that timing. Firstly, I found out that running on a treadmill is really quite different vs running on a track. On the treadmill, I was forced to run at a certain pace. And I guess it didn't help that I knew a timing of 12:50 would suffice for a Silver. Mentally, I just couldn't push myself during the run. A quarter into the last lap, I started my cooling down.
Fine, I know I am clutching at straws here. 
But hey, at least I still published the results, no? And I am going to put myself up for potentially more embarrassment by declaring that I would achieve an IPPT Gold by the end of this year.
50 Sit-Ups, 46 Push-Ups, <10:50 for my 2.4km run. (Target setting courtesy of this wonderful calculator.)
Bedok FCC, be warned. You would be frequented much more regularly in the coming months…
====================
This change couldn't come quicker as statistics have shown that ~50% of participants fail every year under the previous format. Many of them had little chance of passing and would go through the motions during the test itself, resigned to much dreaded Remedial Trainings (RTs).
Having to attend RTs are a common grouse for NS men. I went for my one and only session some years back and can vouch that it's a big time-waster, so much so that I trained really hard for the next 3 months to pass it.
This evening, I am pleased to observe that the participants tried their best at both the static stations and most were running their hearts out, except maybe me. *sigh*
*If you're not a Singaporean, the Individual Physical Proficiency Test (IPPT) is a standard physical fitness test used by the Singapore Armed Forces (SAF), Singapore Police Force (SPF) and Singapore Civil Defence Force (SCDF) to test the basic components of physical fitness and motor skills of their members. Most able-bodied Singaporean males have to take this test once a year.