The past weekend was really crazy and zoomed past like the speed of light! X'mas is traditionally quite busy for me with quite a few gatherings with friends and relatives. However, the advantage of being a freelancer these days is that weekday mornings are relatively quite chill and here I am, squeezing out a couple of hours on a Monday afternoon to do some writing and typing.
Last week, I watched my favourite movie Forest Gump (probably the 5th time I was watching it) again. And here's the famous quote from that movie below: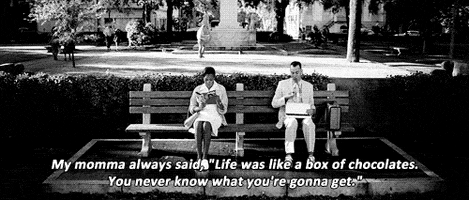 Life might be unpredictable and not exactly within our control, but what we make out of that one life we have is a function of our choices. Afterall, Forest could have chosen not to eat any chocolates.
So here's a review of the choices I made in 2015:
---
Career
Somewhat unfortunately, the switch to become a school teacher didn't exactly work out. However, just to set things right, that opportunity made me realise that I simply love to teach. Minus the formal appraisals, endless meetings and the rigid lesson plans, teaching was a joy. Instead of the classroom environment, I loved the more informal consultations I had with my students.
And voila, the switch to become a full-time tutor has been smoother than I thought. Two months ago, I plucked up some courage, posted some information of myself on my in-laws' condo's FB page and now, I am almost fully booked. Each lesson I have with my students is just mostly one more of those enjoyable consultations.
This is not a choice without any potential costs. Since I am looking at an income of $30k to $40k in 2016, it's easily a 50% cut compared to the salary I had as an office drone. Let's hope this choice doesn't come back to bite me.
Blog
Making a choice to spend more than 200 hours on this blog churning out more than 70 posts has been nothing short of rewarding. Although I sometimes whine about the "obligation" of keep the blog up to date, deep down, I know that this blog "give me more than what it takes away". It's a platform which allows me to organise my thoughts, reflect upon my actions and decisions and of course, improve my life.
Through the blog, I have met up with other like-minded individuals, expanded my (somewhat limited) social network, improved my personal finance knowledge and made a little bit of money in the process.
Honestly, I think the blog doesn't need much progress. I hope the previous sentence doesn't come across as too obnoxious, but what I meant was that I am very comfortable in this current state. Looking to allocate more time on it, grow it further and monetise it more makes me weary and it's simply not a task or responsibility I am willing to take at this point in time.
Who says status quo can't be good?
Health & Well-Being
This is an area where I continually struggle with. I am often accused by my better half that I tend to get obsessed with things. Be it the blog, tuition or even games. I get addicted, become intense and ultimately, suffer a burnout at the end. Besides the mental well-being being affected, during the episode, I would also ignore my physical well-being, choosing not to exercise as much.
If I were to compare, I am struggling to live up to late 2014. I was feeling better, fitter and sleeping like a baby during the months when I was almost half a year into my sabbatical.Hopefully, things will continue improving in the next couple of months. I hope to eat better, move better and sleep better by the middle of 2016.
Finances & Investments
The decision to stay largely invested in the markets is hurting me. Unless a miracle happens in the last few trading days of the year, I would not just be in the red, but under-performing the local STI index as well.
But well, who could have perfectly timed the market? Who could have predicted the current malaise affecting commodities and oil? Even right now, nobody knows whether we are going to see 2,700 or 3,000 soon for the index.
In the past few months, somewhat a little belatedly, I have taken some money off the table and is currently still about 50-60% invested in the stock market.
Somewhat surprisingly, the slump has not adversely affected our overall finances much. Even though we are not earning as much as previously, we are still saving enough to offset the losses and our networth is actually up year-on-year. Our choice to have a simpler and less material-dominated lifestyle is paying dividends.
---
All in all, not such a bad year after all! Here's hoping 2016 would be even better for everyone!