I am celebrating my 31st birthday in a couple of days' time and I will be getting my best present ever.
More of the Mrs' time.
Freeing Up More Time Together
Yes, the Mrs will be leaving her job very soon. Probably still two more months of notice to go and after that, there is a strong likelihood that she would be enjoying a 15 hour work week from July till the end of the year.
With a heavier workload since the start of the year, I have been recommending more and more students to the Mrs and I think she should manage to transition rather well to becoming a tutor just like me.
Soon, both of us can spend our weekday mornings and early afternoons together.
We watched La La Land recently (spoiler alert) and at the end of the movie, I was quite caught out when the Mrs uttered "A couple has to spend time together to stay together".
The Mrs probably does not "enjoy" all the aspects of a tutor as much as me since I am so much more introverted than her. But still, she was willing to make the leap so that we could spend more time together. Really kudos to her.
A Slower Accumulation Rate
In recent months, as I experience more success in my work, our combined monthly income has comfortably breached the $10k mark again. So obviously, the Mrs' decision to leave her current workplace will have some ramifications on our finances.
And no, I am really, really, REALLY not complaining. Nor anywhere near that.
After all, I am approaching the 3rd anniversary of my decision to leave my comfortable and well-paying job and a quick tabulation shows that I have only earned about $100k over the entire past 3 years. If I had stayed, the odds are that I would have earned closer to three times that amount for the same period. That's huge opportunity costs that we are talking about.
I have been led to believe that most wives would have given their husbands hell given the above situation. However, the Mrs had been extremely accommodating and supportive throughout the period. At the same time, she has knuckled down, worked even harder and actually earned close to $200k over the three years, almost double the amount of mine. And even though she has been the main breadwinner, I never felt I was ever "talked down" to.
It's also obvious that me doing 90% of the housework doesn't come close to compensating. So really, the Mrs is the real heroine behind our $400k portfolio, although I always appear to be the one one enjoying the adulation. =p
Therefore from now on, the tables will turn and I will definitely bring home more of the bacon. I am not absolutely certain that I can exceed $200k for the next 3 years but at the very least, I am confident I should be able to earn the bulk of the $240k that we are targeting together as a couple.
If we can earn $80k a year and assuming an expenditure of about $50k, we can still save about $30k or 35% of our income. That's still a decent % although it would no doubt slow down our accumulation rate as compared to the past.
Timeline since 2011: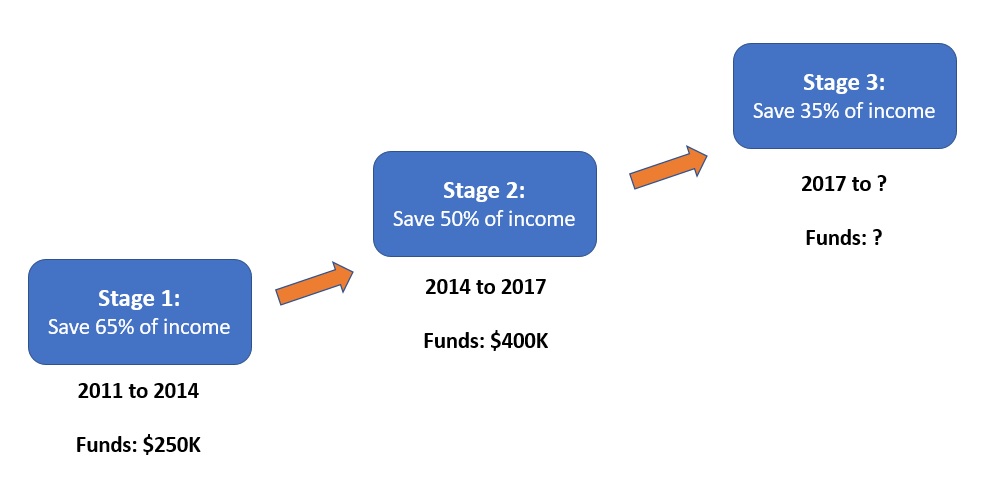 As seen from the above, we have maintained pretty good (or extreme) saving rates in the past. From the half-empty point of view, "if only we sustained those 65% and 50% rates longer so we could reach FI earlier".
However, I am more inclined towards the bottle is half-full point of view, "We have accumulated enough to take stock after every 3 years, enjoy some of our fruits and slow down our pace to smell the roses."
Let's hope we can enjoy this slower pace fully and maintain a 35% saving rate for the best part of the next decade.
Wish us luck!