Over the past few weeks, as preparation for an upcoming talk, I have been gobbling up literature regarding housing affordability in Singapore. And almost everything I have read so far ponder over the situation of a married couple.
But what about the singles? Especially singles with lower income.
In our society, most singles in their late twenties or early thirties are likely to be staying with their parents. However, there is a small segment (for whatever reasons) who are living on their own. The likelihood is that they are renting a room for between $400-$700 a month.
If I were not married to the Mrs, I would likely fall under this category. So it's a scenario I can strongly empathise with.
Since I have rarely heard stories or anecdotes of people 'enjoying' renting a room in a flat, I am assuming that for this group, the desire to own a flat of their own would be pretty strong.
So my question is, can the average single at 35 be able to own a 3-room resale flat?
Let's find out as I put myself in the shoes of a certain Miss Tan.
Scenario
Miss Tan is 30 years old. She is earning $2,500 as an accounts assistant/nurse/social worker/child care teacher and has been renting a room in Punggol for $500 a month for the past few years. She hopes to be able to own a 3-room flat in Punggol in 5 years time when she turns 35.
Financing a $400,000 3-Room Flat
Miss Tan understands the potential pitfalls involved in purchasing a flat that could possibly outlive her. So, if possible, she would prefer to purchase a flat with at least 80 years remaining on the lease. And she believes she would save money in the long run if she stays close to an MRT station and rely more on public transport. Moreover, the flat would likely retain its value if she needs to sell it in future.
A quick search on the HDB website yielded these results: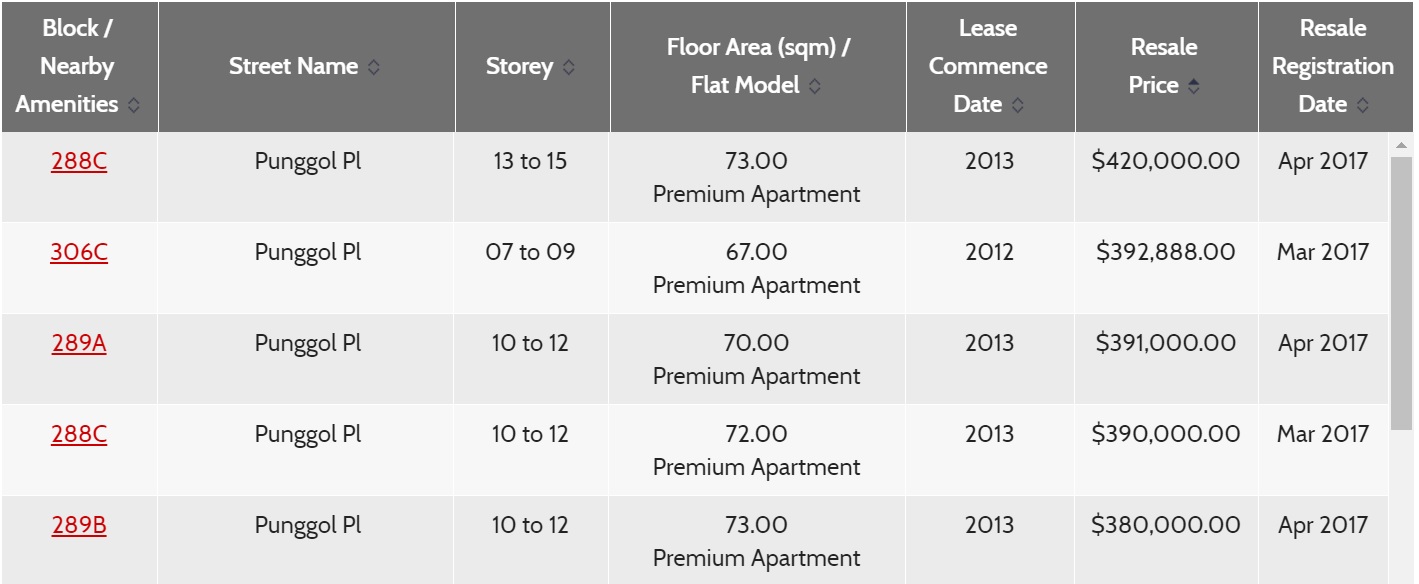 She understands that the above are choice locations within Punggol so she is willing to settle for a location a little further away from the train station. But at the same time, Miss Tan understands that she has to take into account inflation. So although $400,000 sounds a bit absurd right now, that might easily be the market price in 2022.
As a Singapore Citizen, she qualifies for the Singles Grant, which provides her with $25,000. Since her income will almost definitely be above $2,500 in 2022,

she does not qualify for any Additional Housing Grant (AHG) for Singles. 

By 2022, Miss Tan would have worked for 15 years. Assuming a a realistic annual income of $30,000 on average for the 15 years, Miss Tan should have about $110,000 in her CPF Ordinary Account. These balances can be used to purchase a flat.
Even though she does not earn a high income and has to account for rental expenses, Miss Tan has managed to put aside an average of $200 a month for the past 10 years. That is $25,000 and over the next 5 years, she hopes to add another $25,000 of savings for the flat.
Total Sum Available: $25,000 + $110,000 + $50,000 = $185,000
Setting aside $25,000 for some basic renovation and furnishing, $160,000 would then go towards the downpayment of the house. This would mean she would need to borrow $240,000 to finance her flat.
Difficulty Qualifying For $240,000 Loan
Miss Tan qualifies for the HDB Concessionary Loan and the interest rate is pegged at 0.1% above the CPF OA interest rate. For a $240,000 loan with a repayment period of 25 years at an interest rate of 2.6%, her monthly instalment will be about $1,090. 
Assuming Miss Tan is earning $3,000 a month in 2022, her CPF OA contribution will be $630 (OA allocation reduced from 23% to 21% after age 35) so she would have to top up $460 in cash. Overall, buying this flat results in a better outcome for her as she can save on her $500 monthly rental and the $460 would also go towards building equity in the house. Moreover, she could also rent out a room to help cover her mortgage payments. 
However, HDB is unlikely to allow her to borrow $240,000 due to the Mortgage Servicing Ratio (MSR) limit of 30%. The monthly instalment of $1,090 exceeds 30% of her gross income. Based on the MSR, she would only be allowed to borrow up to $200,000.
Miss Tan's Obvious Options
1. Buy a $360,000 flat instead
Downside: She has to settle on a flat with a less desirable location. It might also be harder to rent out a room at a good rate.
2. Save up an additional $40,000 from 2017-2022
Downside: Saving $1,100 from $1,500 of disposable income would likely mean a big drop in the standard of living for 5 years. Might not be realistic or worthwhile.
3. Change career to earn a higher income to qualify for loan
Downside: The society could lose a good and dedicated accounts assistant/nurse/social worker/child care teacher.
The 15HWW Recommendation
There are big downsides to the above choices. If not for the MSR, Miss Tan would surely want to continue her career, save a reasonable $400/month instead of a ridiculous $1,100, and go for that $400k 3-room flat near an MRT station. So here's Option 4.
4. Get a side gig to earn an extra $600/month 
Do it for a minimum of a year and pay slightly higher taxes for a year or two. This should help ensure that Miss Tan would be able to qualify for the $240,000 loan.
Takeaways
Sometimes I do think that our housing policy is pretty biased against singles.
For example, a married PR couple can own a flat at a younger age than a single Singapore Citizen. Inflation over a few years is likely to erode the $25,000 grant, negating any advantage as a Citizen.
For a single male Singapore citizen who had to serve 2 years in National Service, this fact is hard to swallow. The frustration would likely be exacerbated if he has to rent a room before turning 35.
For a government trying to boost the ailing birth rate of the country, it's also hard to fault them for giving priority to couples who are then likely to start a family. But with the increasing trend of DINK households, is this carrot still viable for that outcome?
Changes to housing policies will take time, so it's not much use lamenting or hoping for a change.
If I were a low income single looking to buy at flat at age 35, I would just have to improve my financial situation to ensure that the flat becomes a reality when the time comes.
And as seen above, even buying a 3-room resale flat in "ulu" Punggol does not appear as easy as it seems.