My independent financial planner often sends me letters and emails to update me on some of the latest promotions on insurances and investments. Most of the time, I would just take a quick look before crumpling up the leaflets or hitting that "delete" button. After all, I presume myself to be already adequately covered and prefer to manage my own investments.
However, earlier last week, this juicy deal caught my eye when I sieved through my emails and I have decided to share it with you. Basically, Aviva's offering a 25% discount on premiums for their My Protector Level Plus policy. Frankly speaking, that's a pretty hefty discount on a basic term insurance policy. The attractive indicative premiums are attached below: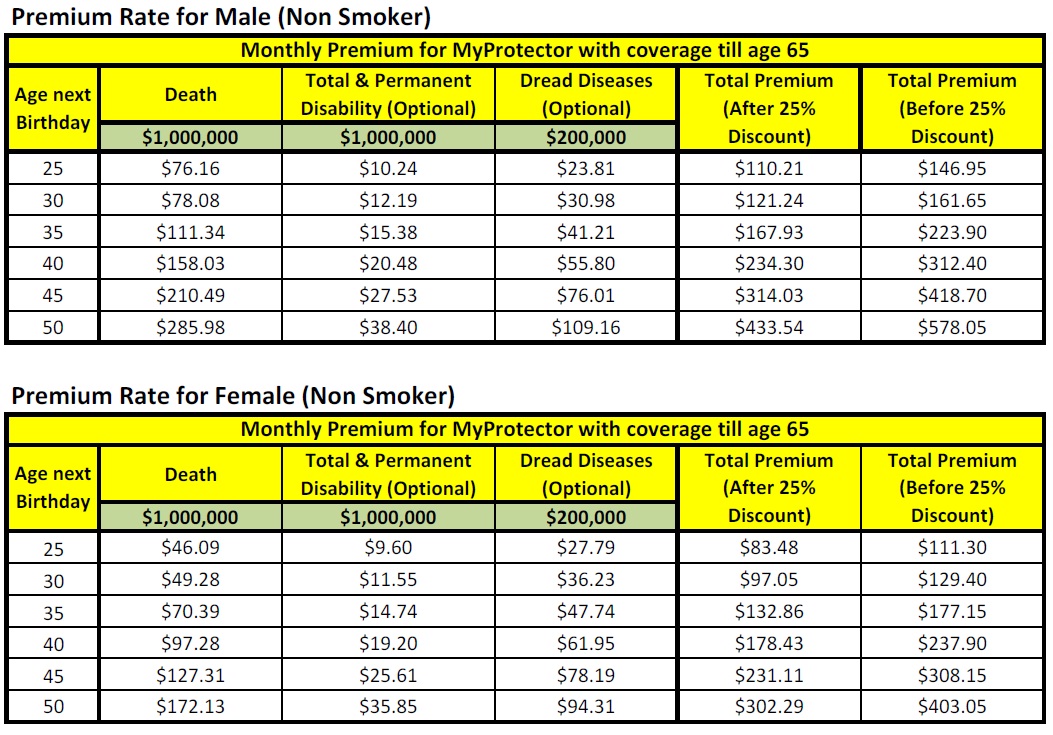 The catch here is that to qualify for this discount, the minimum coverage has to be $1 million dollars. Currently, the $510 I pay to Aviva for their "Global Protection" term insurance provides me with $150k of coverage for Death/Terminal Illness, Total and Permanent Disability and accelerated Critical Illness (similar to dreaded diseases) payout. If I were to adopt the illustration above, my premiums would increase by almost 3 times! Even after stripping the optional items, I would still have to pay roughly about $58.56 ($78.08 before 25% discount) every month for this $1 million insurance.
Ok, I guess it's time to catch myself here and stop bashing this product, eh?  Even though this product isn't that suitable to me, it might be a godsend for many. (I also have to be honest and admit that I probably won't even think twice about signing up if the promotion is valid for a $0.5 million coverage.) Afterall, it isn't really that uncommon for a guy in his 30s to have young children and elderly parents (and even grandparents) as his dependents. Different strokes for different folks.
Therefore, If you are looking to buy a term insurance or increase your coverage, you should take a closer look at this policy. The promotion is valid till 31st October so there's still 3 weeks to go!
This is the last of a 3-part series on the topic of insurance. You can refer to the 1st part on the Basics of Insurance here and the 2nd part on How We Keep Our Insurance Expenses Low here.
Additional Disclaimer: I am just sharing on a product which I thought might be useful to you. Aviva definitely does not provide me with any incentives for writing this post.