I am just back in Singapore after a week long vacation and it's nice to find out that it's another "slow and steady" month on the portfolio front. The 15HWW portfolio increased by $6,000 to reach $406,000. The bulk of the increase comes from savings and the organic portion from the growth of the portfolio accounts for less than $2,000.
But I am not really complaining since the market has run up a fair bit and it's only appropriate that it takes a breather. As the warchest dwindles with two more stock purchases, building up cash could be the default psyche for the next few months.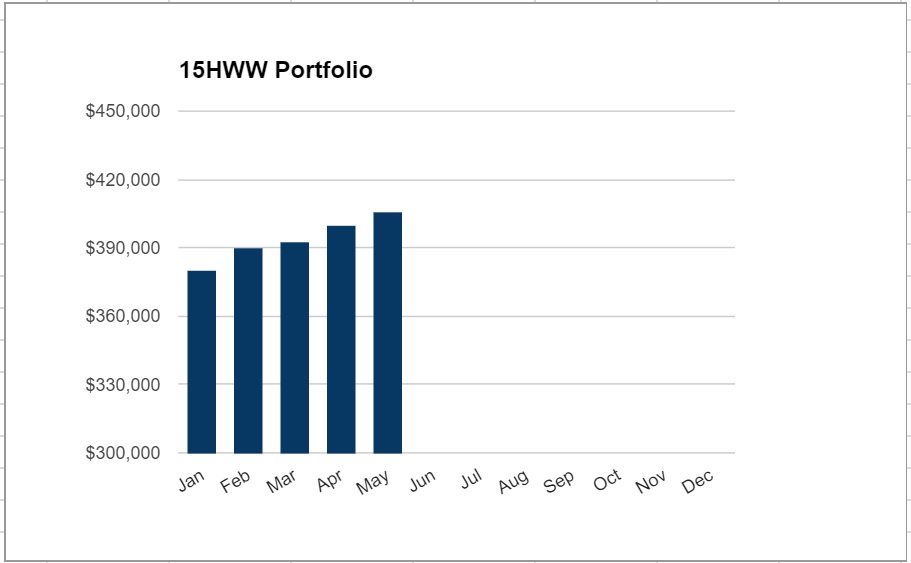 ---
1. 15HWW Permanent Portfolio
The STI appreciated to offset the declining gold prices for the past month. The permanent portfolio is not called the permanent portfolio for nothing.  Although this portfolio has been struggling to hit $154k for the past couple of months, it would also take a lot for it to dip below $150k?
A tranche of the Singapore Saving Bonds also paid out about $27 in interest and this went to the cash portion. 

USD-SGD Rate: 1.39
UOB 50 Gram PAMP Gold Price: $2,793 x 6 = $16,758
Annualised Returns: 6.8% (Jan 2017 to May 2017)
---
2. Personal Picks
Quite a flat month and there were no transactions for this portion. Since a few counters paid out dividends, a flat performance can be considered pretty decent.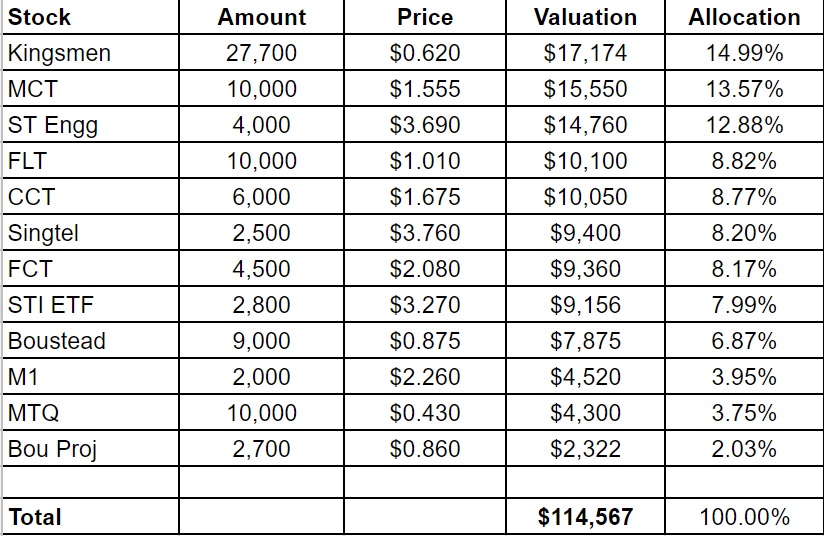 Annualised Returns: 7.0% (Nov 2010 to May 2017)
---
3. DWI Picks
I subscribe to Dr Wealth Insiders (DWI) as a form of diversification. Only time can tell if I had made a good choice. And for obvious reasons, I will not be revealing the make-up of this portfolio. However, I can probably still document it by noting down a few indicators as shown below.
I managed to add two local stocks to the portfolio in the past month and this component is fast becoming very sizeable at $80k in value.
Portfolio Value: $80,363
Number of local stocks: 6
Number of international stocks: 4
Annualised Return: 8.1% (Sep 2016 to May 2017)
---
4. Warchest
This is the amount of cash or cash equivalents we have that is ready to be deployed into the markets. The two purchases this month managed to reduce the warchest by $13,000.
Warchest Value: $57,000
---