Even with the North Korean tensions escalating, the market remained somewhat flat during the past month. So I was pretty delighted to eke out some decent gains for the portfolio, especially with the crediting of close to $2k worth of dividends during the past few weeks.
The portfolio rose pretty significantly by $6k to reach $421,000 and a big contributor was the good performance of the DWI sub-portfolio as a couple of stocks there made good gains in the past month. The annualised return of all the sub-portfolios are above 6% again. 
There was no transactions this month but I am on the lookout to deploy a bit of cash into some stocks and it's likely I will fire a couple of bullets in the next month.
Overall Portfolio (Value: $421,000)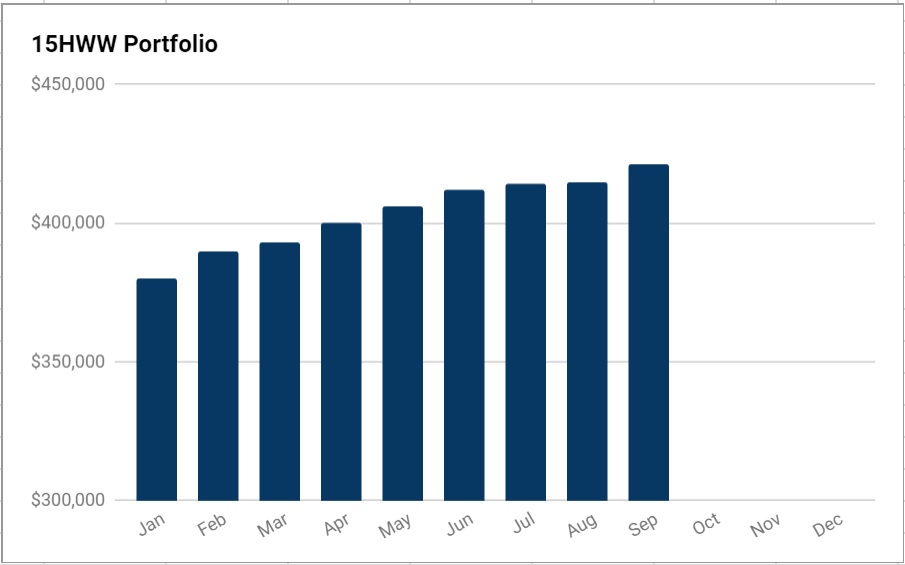 ---
1. 15HWW Permanent Portfolio
With the SGD appreciating against the USD, it's quite surprising that there is actually some paper gains this month for this sub-portfolio.
Gold did decently well with the political tension in the Pacific and Berkshire is also performing really well. The STI ETF also coughed out close to $500 of dividends and the returns of the Permanent Portfolio is still slightly ahead of the two other sub-portfolios.

USD-SGD Rate: 1.35
UOB 50 Gram PAMP Gold Price: $2,827 x 6 = $16,962
Annualised Returns: 7.0% (Jan 2017 to Sep 2017)
---
2. Personal Picks
The value of this sub-portfolio actually went down by $1.5k but most of it is offset by the dividends received in August. Dividends that will be received later this month should also help to maintain the performance of this sub-portfolio.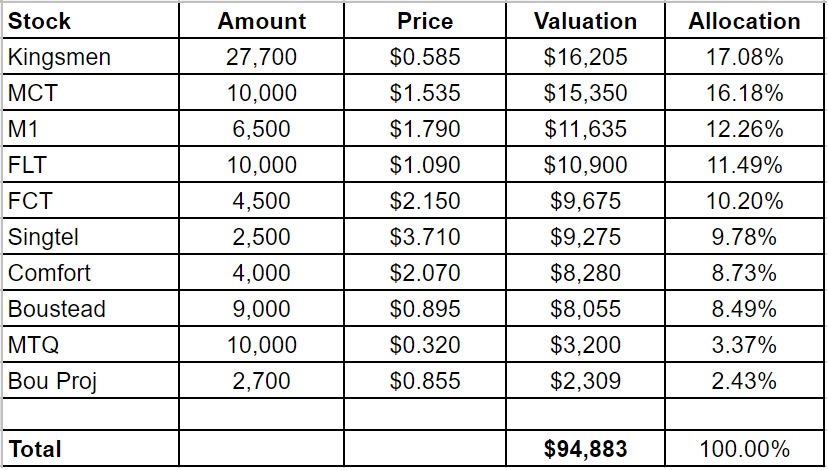 Annualised Returns: 6.7% (Nov 2010 to Sep 2017)
---
3. DWI Picks
I subscribe to Dr Wealth Insiders (DWI) as a form of diversification. Only time can tell if I had made a good choice. And for obvious reasons, I will not be revealing the make-up of this portfolio. However, I can probably still document it by noting down a few indicators as shown below.
In just about one month, the portfolio gained 3%. The annualised return is back up to about 6.4% from 0.7% last month, which really illuminates how small caps are much more volatile compared to blue chips. It can go down as quickly as it rises since a small cap could gain or drop 10% in just a day.
Portfolio Value: $88,766
Number of local stocks: 7
Number of international stocks: 4
Annualised Return: 6.4% (Sep 2016 to Sep 2017)
---
4. Warchest
This is the amount of cash or cash equivalents we have that is ready to be deployed into the markets.
Besides the dividends, we managed to pump in another $2k+ from our income this month.
Warchest Value: $80,000
---