During October 2013, close to two years ago, I went on a 4D3N trip to Bangkok with Mrs 15HWW and her family. And I subsequently wrote a post stating why I don't really enjoy typical vacations, especially to places like Bangkok or Hong Kong.
Interestingly, a short vacation was on the cards early this month. I decided not to pursue a career in teaching and Mrs 15HWW was only due to start work in the middle of the month. But somehow, I managed to persuade the Mrs that we should stay in Singapore. It did help that the Speaker of Parliament urged Singaporeans to remain in the country and join in the Jubilee Celebrations. (Thanks Mdm Halimah!)
Before you accuse me of being a scrooge, let me reiterate that money wasn't the chief concern. So much so that we decided to conduct an experiment and "force" ourselves to "waste" $1,000 through discretionary spending over 5 days in Singapore.
I thought $1,000 was just about right since a couple would likely have to spend that much for a 4D3N trip to Bangkok.
My Hypothesis

Short vacations are grossly inefficient. As mentioned in the first link of this post, an enormous amount of time is spent waiting and commuting. Moreover, the bulk of the vacation cost goes to fixed costs like the flight and the accommodation.
What if you could save all these time and money and then enjoy and relax in Singapore?
When I first started working 4 years ago, I was always puzzled as to why my employer needed to know whether I was going overseas when I was applying for more than 3 or 4 days of leave. But over time, I realised why. Apparently, in many bosses' views, if you're not travelling, the minimum they would expect you to do is to check your email every night. #beentheredonethat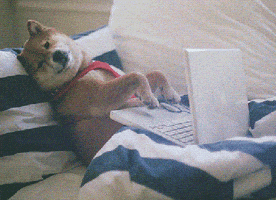 But if you're overseas in a place where you can't readily get wi-fi, bosses/clients will have the courtesy to either solve the problem themselves or approach your co-worker.
When we are on leave, most of us to get away from the stresses and demands of work. The last thing you want is for your phone to be buzzing with some last-minute or urgent requests from your bosses. You don't want to be like the dog above.
Little wonder why short overseas vacations are so popular among the population.
But the above didn't really apply to the both of us during this period. With no bosses or clients behind our backs, theoretically, we should be able to relax and chill out in Singapore. Yeah, no need to go overseas.
How A Day Went
4th August
8:00am – Wake up & light breakfast of fruits and nuts ($0)
9:00am – A leisurely swim at the in-law's place ($0)
11:00am –  Took a train to town and had an early lunch at Sprmrkt. Eggs Benedict, sandwiches , coffee and of course the Mrs' favourite Truffle fries. To let you know how much I dislike it, let's just say that I would prefer McDonald's fries any day. ($40)
2:00pm – Travelled to Vivo City and decided to catch Mission Impossible: Rogue Nation at GV Gold Class. It was our first experience there and it did feel a "little special" to be able to order some tea in the middle of the movie. ($60)
5:00pm – Some shopping by the Mrs.  I can't recall the retailer as I probably was just sitting down somewhere reading finance articles. I am not joking. ($40)
6;00pm – Had dinner @The Chop House since we were still at Vivo. We shared a berkshire pork chop and a prime ribeye beef steak. (($85)
8:00pm – A dessert at St Marc's Cafe ($9)
10:00pm – Some reading/surfing before going to bed!
Total expenditure: $234
Our Findings
Obviously, not all 5 days were as spendy as 4th August. But we really accumulated $1,000 of spending from 3rd to 7th August after including some items like expensive raw honey. The Mrs also managed to loosen up quite a bit with some shopping.
I think both of us concluded that we would prefer to stay in Singapore as compared to a short trip to Bangkok, for example. However, it's interesting to note that the extra discretionary spending did not give us a lot more utility.
For instance, a week later on 10th August, we went to City Square Mall near Farrer Park MRT station. Since it was the 10th of the month, Old Town White Coffee was having some promotions.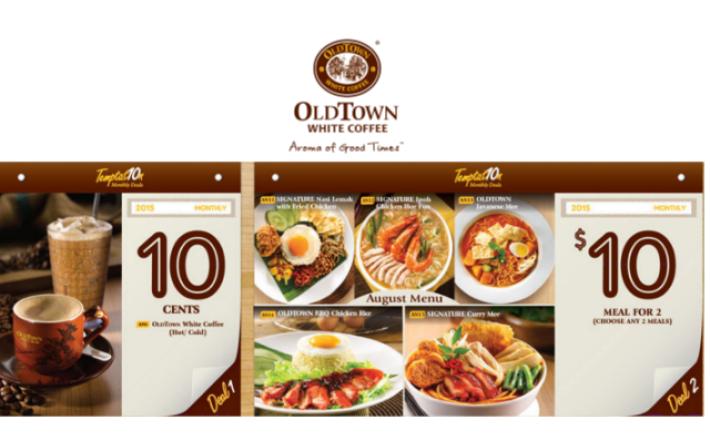 Two mains and two drinks set us back by only $12 and we also spent another $5 for two yogurts @Milk & Honey (some SG50 promotion). Then we spent another $16 buying some little organisational trinkets from Daiso and another $10 buying groceries @NTUC for a simple dinner.
We were really happy as we got a good kick out of getting good deals and seriously, the utility we had from that afternoon was probably higher than that of 4th August.
Therefore, using the money saved on a short vacation to splurge locally seems like a big waste of money for us. 
So, what should we do with the extra money then?
Option 1: Save up for a big and long (>3 months) trip to Vancouver. We could then spend some time in the Rockies, travelling to Alaska or just enjoy a picnic at Stanley Park
Option 2: Do something on slightly longer vacations that can't be done in Singapore. Perhaps 2 weeks in Taiwan or Australia would be good? We could spend the bulk of the time in some farms or homestays and enjoy the better weather in spring or autumn to do some trail walking or hiking.
Any other suggestions that you might have for us? What's your take on those short vacations to BKK or HK?