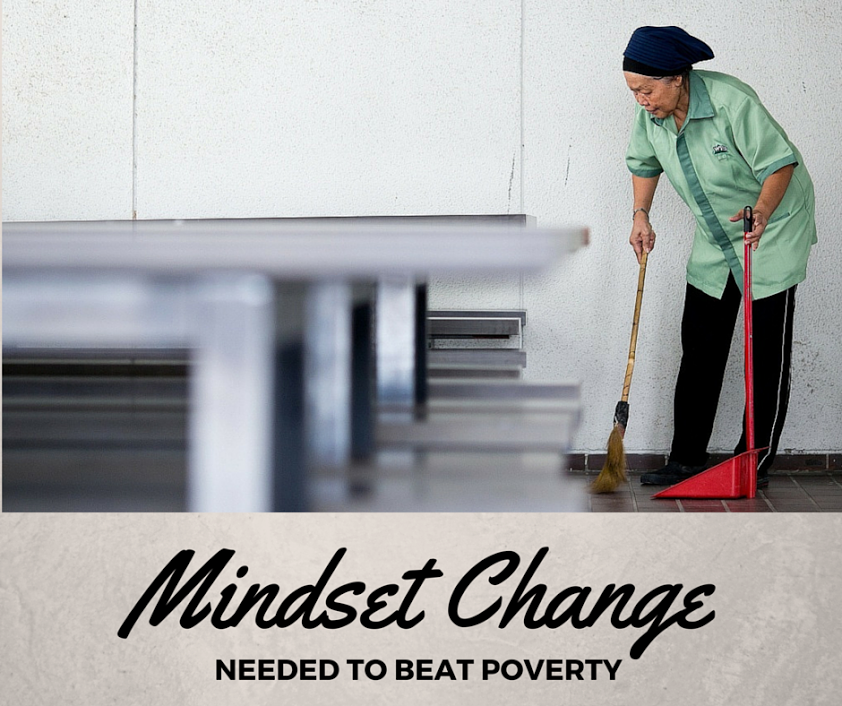 Photo Source: NTUC This Week
A few weeks ago, I actually spent many hours piecing together a super long article (close to 2,000 words) regarding poverty in Singapore.
Since it was already an essay in itself filled with many hyperlinks, I didn't really want to burden readers with my opinions on how poverty can be best alleviated, which is through a mindset change from the various stakeholders. Hence, this article! (Don't worry, it's a much easier read if you had read the earlier article, and this is going to be short and sweet @1,000 words.) 
---
Mindset change from the government:
In the late 80s and 90s, the government believed that rapid economic progress and trickle down economics would help even the low wage workers (LWWs).
However, from what I gleaned from Labour MP Zainal Sapari's first blogpost, the truth is probably much further away.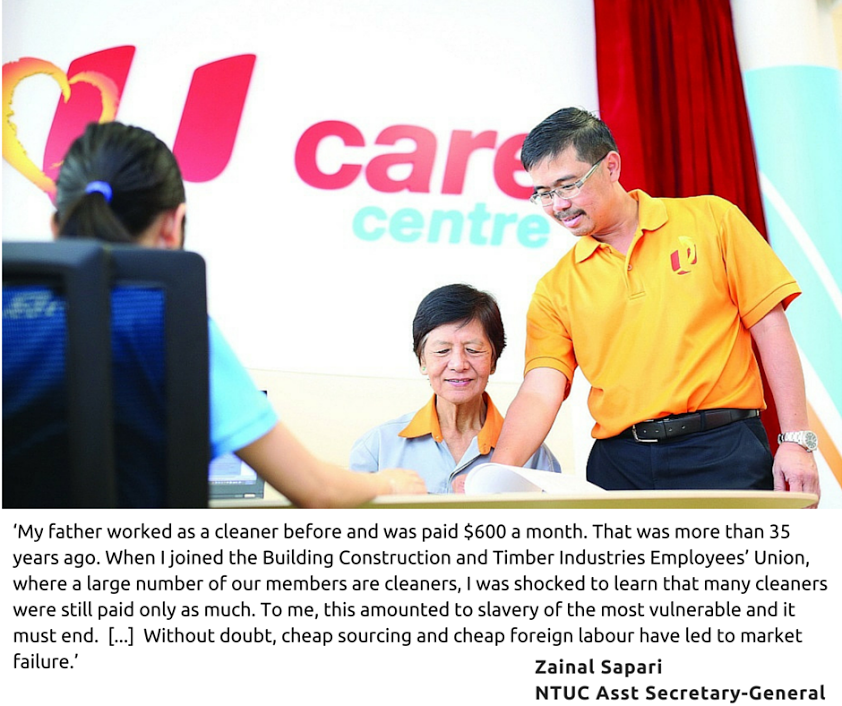 Photo Source: NTUC This Week
If a cleaner was earning $600 a month 35 years ago, the "real" income of a cleaner (after accounting for inflation) has probably decreased over the past 3 decades. So much for economic growth.
The mindset of the government has gradually changed and it tried to rectify this situation with a series of policy shifts, starting with Workfare that was introduced in 2007, close to a decade ago. As a permanent feature of Singapore's social security system, Workfare rewards regular work and individual effort of LWWs by providing cash and CPF payouts to help with expenditure needs and retirement savings.
And in recent years, more measures like Progressive Wage Model (PWM) have been introduced. From Labour MP Zainal's parliamentary speech, it's heartening to note that PWM has also been extended to the security and landscaping sectors and hopefully, to more sectors to benefit more LWWs.
It's much easier to empathise when one has been through a similar experience. Having lost my mum to illness when my siblings and I were teenagers, I mean it when I say I can empathise with young adults who have to care for their sick parents.
Likewise, having grown up in a lower income family, Labour MP Zainal Sapari is probably more acutely aware of the challenges facing low wage workers and their families. From his latest blog post and his work, you can see where his heart lies and I have little doubt with advocates like him within government, the mindset change to provide LWWs with more help would accelerate.  
Advocates of trickle down economics believe that a rising tide lifts all boats. But I'm glad to see that since the past decade, the government has started to help people fix their boats, upgrade their boats too.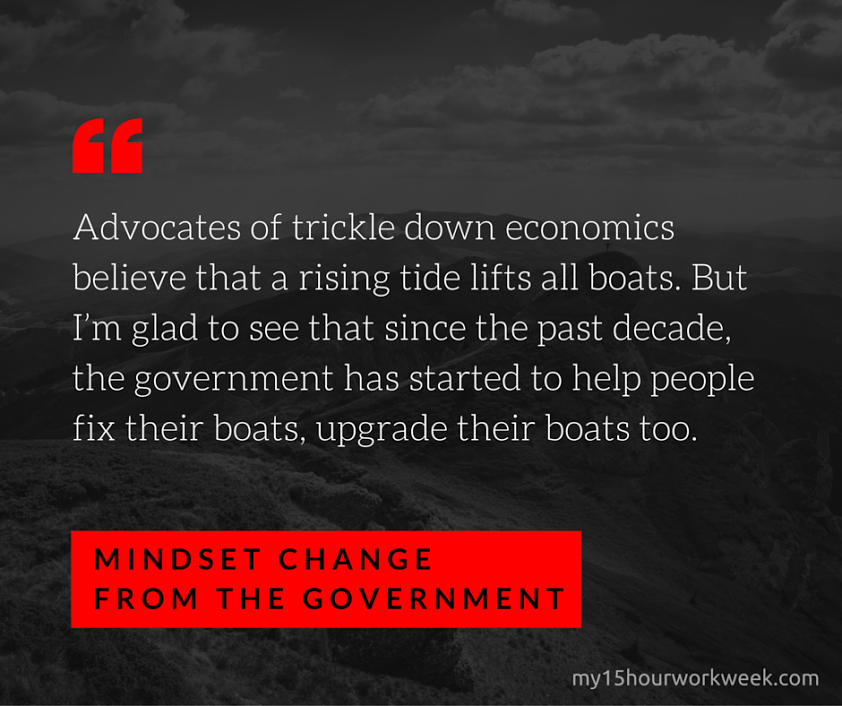 Mindset change from the LWWs:
Last Friday, I shared a McMuffin with egg meal with the Mrs @Waterway Point. Instead of approaching the cashier, the Mrs went straight to one of these machines below:
Automation is becoming a real threat to many low-skilled jobs. Instead of requiring 4 or 5 cashiers at a busy Macdonald's outlet, they just need one cashier along with several self-order kiosks.
Driverless cars already appear inevitable in the forseeable future, putting into doubt the jobs of millions of cab drivers around the world.
The need to master new tools and machines that increase their productivity in their present jobs or to learn new skills to switch to another industry after being structurally unemployed is pressing.
Cue the SkillsFuture Credit to help LWWs make this transition. Some have already started upgrading themselves and it's important for more to follow suit. Other than the LWWs themselves, the government, employers, unions, or even friends and families of the LWWs can play an active part in making this vulnerable group of workers more aware about how we cannot take job security for granted.
Cliche or not, the only way to remain employable is to ensure that we have future-ready skills.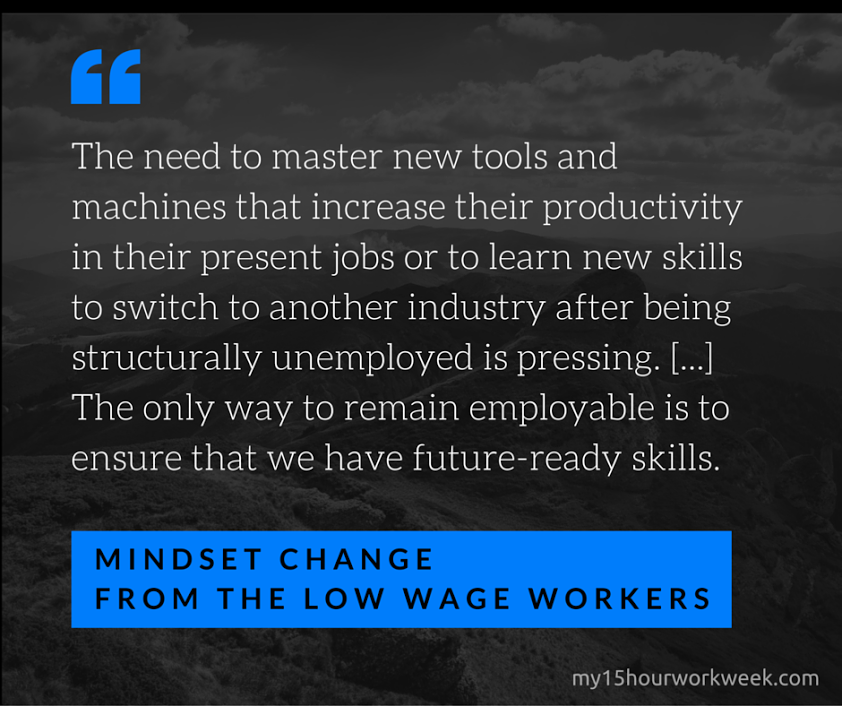 Mindset change for the children of LWWs:
As I argued in the previous post, with regard to poverty, the chief concern of the society should be on the well-being of the children of LWWs.
Are they given the most basic and essential tools to succeed? Do they have access to good opportunities to break out of the poverty cycle?
If the insights I gained from this article about abject poverty is true, the odds are stacked against these children. Even though Singapore has had relatively strong success with regard to social mobility in the past 50 years, even DPM Tharman himself had admitted this relative success would be more and more difficult to maintain as the society matures and wealth effects compound.
These children might not even know that an alternative universe exists, a world where one doesn't have to constantly worry about job security and servicing debts.
Saving $10,000 or $20,000 appears to be impossible. If they understood how academic excellence or mastery of a skill or craft could land them a good job that pays much more than their parents' jobs, they could become more motivated to channel more time and energy towards learning and upgrading.
They also might not have any idea how you can become a mini-capitalist just by saving money and earning interest off that sum of savings.
$10,000 invested in a corporate bond could yield $500 of coupons. $20,000 invested in a REIT could churn out $1,500 of dividends in a year. These simple concepts could potentially blow these children's minds.
I know it because 15 years ago, 15-year-old me came across such concepts in local tabloids and personal finance books in Kinokuniya. Saying that I was awed was an understatement.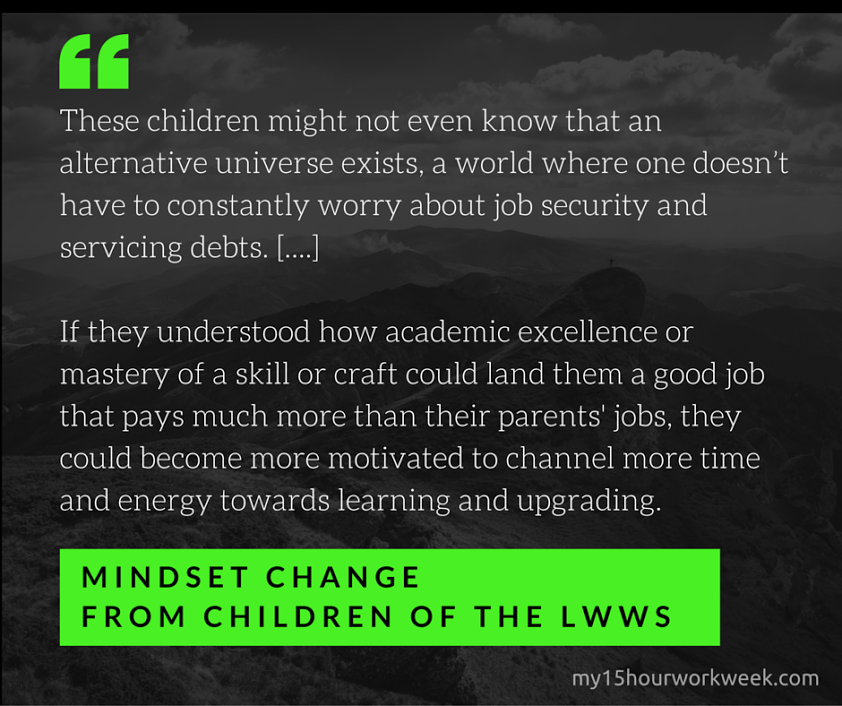 Could these children become money-savvy and move up the social strata?
I really think this is where myself and other writers in the financial blogosphere come in. Providing a little bit of financial education on the internet.
Potentially making a difference to these people, more than anything else, is really what's keeping me going on this blog.