There are some things in life that you only miss when they are no longer around.
Health is one of the first things that comes to my mind. And the next is "nagging" loved ones who are no longer around. (A big shout out to my deceased mother.)
And of course, there is the case of my "missing" Central Provident Fund (CPF) contributions.
---
From Employee To Freelancer
It's been exactly a year since I have made contributions to my CPF accounts. The transition from an employee to a tutor has been largely smooth but something that is still bothering me and a little "painful" to face is the lack of CPF contributions.
There is generally a lot of vitriol regarding CPF contributions. Due to the employee's share of 20%, many often see it as a 20% tax on their income. But people often forget that the bulk of or even their entire mortgage is taken care of by their CPF contributions into their Ordinary Account (OA).
As I have explained half a year ago regarding my mortgage conundrum, I am now using cash to pay down part of the mortgage on our house. The mortgage is definitely more evident when you are servicing it with cash.
Absence does make the heart grow fonder towards my CPF contributions. 
How A Young Adult Should View CPF Contributions
According to Google Analytics,  66% of my readers are male and 75% are in the age range of 25-44. So that makes you, my reader, a young adult.
Just like me.
And if we are being rational about it, CPF contributions are a terrific boon to our personal finances.
Let's take a look at the CPF contribution rates of employees: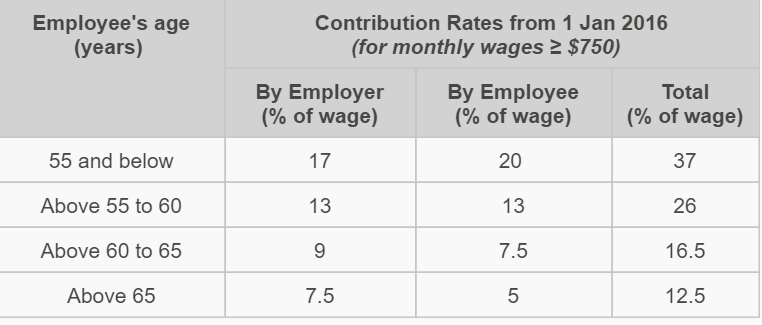 If you are aged 55 and below, besides the 20% of wage that you have to contribute, there is this ADDITIONAL 17% that your employer contributes to your CPF accounts.
So where do these money go to?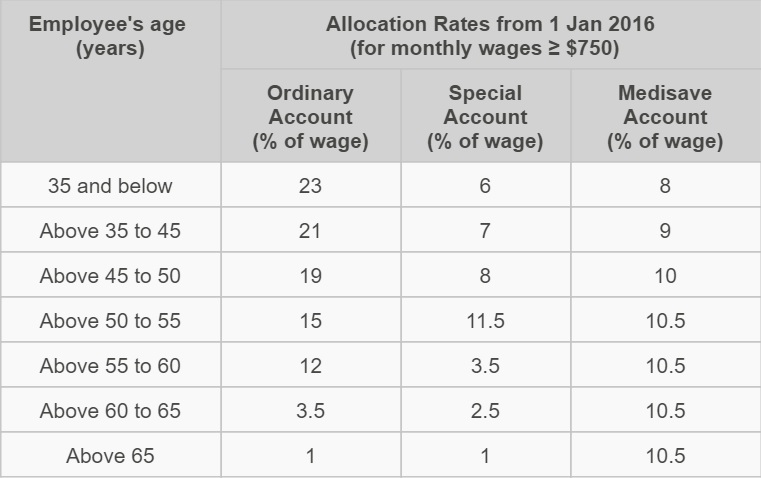 These are some of the insights I can make when I compare the contribution rates with the allocation rates for those below 50:
The 20% that you contribute goes to your OA, which can be used to pay your mortgage
Since I believe 90% of Singaporeans/PRs above 35 are servicing a mortgage, the OA contribution will be handy in the short term. The money you contributed to CPF isn't locked up for a long time
The 17% contributed by your Employer goes to the Special and Medical Accounts. 
Effectively, your employer is paying for your long term retirement and medical needs.
If we frame your CPF contributions this way, you might see it in a VERY VERY different light. Given a choice, you would want to contribute that 20% to get that 37%!
How The Government Can Help Secure The Retirement Of Freelancers
In the past few years, there have been some changes to CPF contributions that further improves the scheme.
From increasing employer contribution rates from 16% to 17% to increasing the monthly income ceiling from $5,000 to $6,000, these changes ensure larger contributions to our CPF accounts that helps to service our mortgage (short term) and beef up the balances for our retirement and medical needs (long term).
Unfortunately, as a freelancer now, I do feel a little left out.
In fact, when I wanted to perform in advance a mandatory top up to my Medisave Account, I was told that I can only do it after I had declared my 2016 income to IRAS. Urgh.
If the government and labour movement truly recognises that freelancers are on the rise and want to do more to support them, perhaps they could look at how freelancers can benefit from the good deal that the CPF is.
I am going to go out on a limb and radically suggest that the government takes on part of the "employer's burden".
If a self-employed or freelancer contributes 20% of his wages to his CPF accounts, the government can contribute half or a quarter of the employer's share. For example, for a person below 35, the government will match 8.5% or 4.25%.
Self-employed and freelancers are expected to be self-reliant too but there needs to be more incentives to encourage them to contribute more for their old-age as compared to what is presently available.
I am not sure how much all of these is going to cost, but if there are many destitute self-employed or freelancers in the decades to come, they will turn to the State for support in the end too.
Something for the policy makers to think about.
---