Raising Of Premiums
When I heard this piece of news that meant all insurers were effectively raising the premiums of their Integrated Shield Plans (IPs), I knew that I might have to reevaluate my health care insurance strategy.
After all, according to the same report, "Claims for IPs covering treatment in private hospitals have risen by 17 per cent a year in the past few years" and in case you did not know, insurance companies are profit-making in nature (there are shareholders) and when their costs increase, they are just going to pass it on.
So I expect premiums to be raised again in a few years' time. Most of us will probably feel the pinch when the subsidies are removed and we grow older.
Imperfect Information & Moral Hazard 
Imperfect information is a really big issue in the healthcare industry. The customers know so much less than the providers. For example, most of us would find it very difficult to question a doctor's advice.
Adding in doctors' incentive to provide more "services" plus a buffet effect with healthcare insurance for patients, this makes for a lethal cocktail mix. It is no wonder claims have risen by an astronomical 17% a year at private hospitals, where there is likely less regard for "costs".
My Prediction 
Healthcare insurance costs will skyrocket. The more comprehensive the plan, the higher the increase. 
When I talk to people, the prevailing sentiment is to get the most comprehensive plan you can afford, not need. It is often cited that a surgical procedure plus one or two week stay in the best wards in a private hospital would "earn back more than a decade of premiums paid".
And there is mainstream acceptance that hospital insurance is a priority and one should have the "best" care when one is sick.
I also believe that in the future, the newest and most innovative procedures will not be covered by hospitalisation insurance plans. Maybe something along the line of stem cell therapy. To gain access to them, one would have to pay out of pocket.
My Strategy
I am on NTUC Income's Enhanced IncomeShield Preferred plan which is the most comprehensive IP they provide. I also have an Assist Rider so that I would only need to pay 10% of the claimable amount. The Mrs is on the exact same plan.
An alternative plan is the Enhanced IncomeShield Basic which cover stays in government hospitals for wards B1 and below.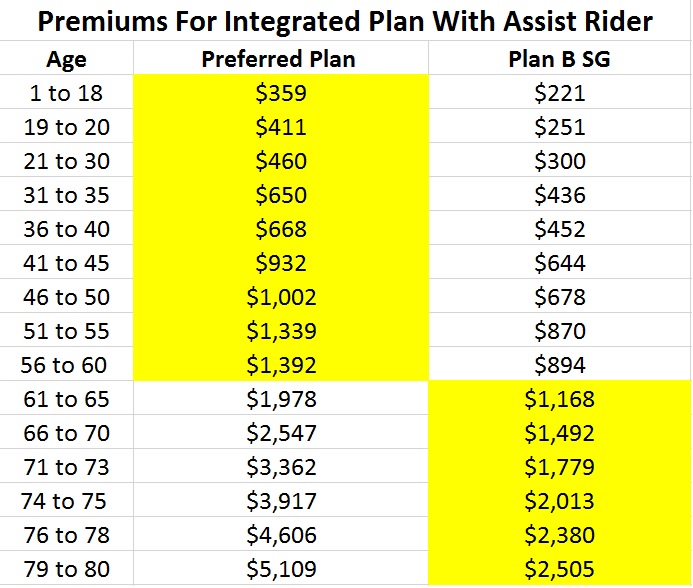 *Numbers extracted from NTUC Income website on 7th April 2017
The above compares the premiums paid for these two plans and the highlighted portion reflects my plan. (Do note that the above premiums are likely not reflective of the latest revision.)
At this point in time in our early thirties, both of us still have a lot of human capital left. It seems reasonable to pay around $100 a month ($1,200 a year) to get private care in the low probability event of being hospitalised in the next three decades. Protecting the human capital is a big priority and those are also the prime years of our life so maintaining the quality of life is also important.
However, it does seem absurd to me to be paying $2,000 or even more every year for hospitalisation insurance as we grow even older. At age 80, each of us have to pay an astronomical $5,000 a year just to be on the same Preferred Plan with an accompanying Assist Rider.
Plan B would make so much more sense at age 80, with the premiums halved to $2,500 a year. 
And the scary part is that these premiums are likely to be increased at least a few times over the next few decades.
So the likelihood is that past the age of 60, we would change/downgrade to the Enhanced IncomeShield Basic or even to MediShield. At age 75, the premiums would still be a reasonable $2,000 a year and I have had no prior bad experiences in government hospitals. In fact, although my Mum only qualified for B2 wards under MediShield, she was often upgraded for free to B1 wards.
The care provided in the B1 wards was really good and my gut feel is that if I prefer and can afford care in a private hospital in my old age, it might make more financial sense to pay out of pocket instead of relying on a private hospitalisation insurance.