It's a pretty decent end to the year.
Month-on-month, the portfolio managed to increase by $3,000 and the value of the portfolio is right back to where it was in October, at $428,000. 
The 15HWW Permanent Portfolio continues to surprise and in fact, was responsible for most of the gains this month.
This cannot be said for the DWI sub-portfolio, which continues to underperform, continuing the trend in this second half of the year. Hopefully, its return catches up with the others in 2018.
It's a lean income month so not surprisingly, there are no transactions at all for this month.
Overall Portfolio (Value: $428,000)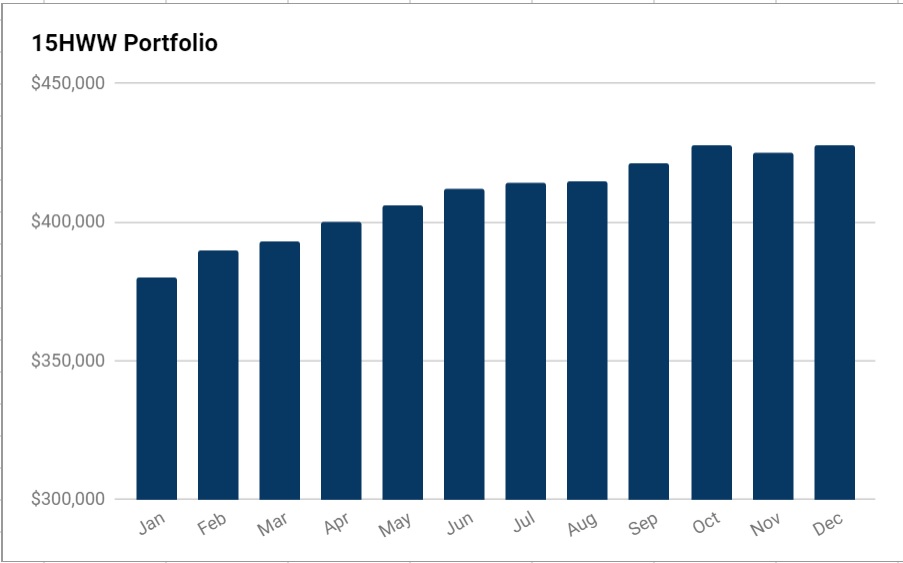 ---
1. 15HWW Permanent Portfolio
Berkshire B has been on a tear and is up close to 10% as compared to the previous month. This more than offsets the drop for gold.
One tranche of the SSBs and the FCL bonds gave out coupons, adding a few hundred dollars to the cash position.

USD-SGD Rate: 1.35
UOB 50 Gram PAMP Gold Price: $2,718 x 6 = $16,308
Annualised Return: 7.7% (Jan 2017 to Dec 2017)
---
2. Personal Picks
This sub-portfolio actually did well to maintain its value, considering Singtel just went XD.
The star performer this month has to be MCT, up almost 5% from the previous month while Comfort remains abysmal.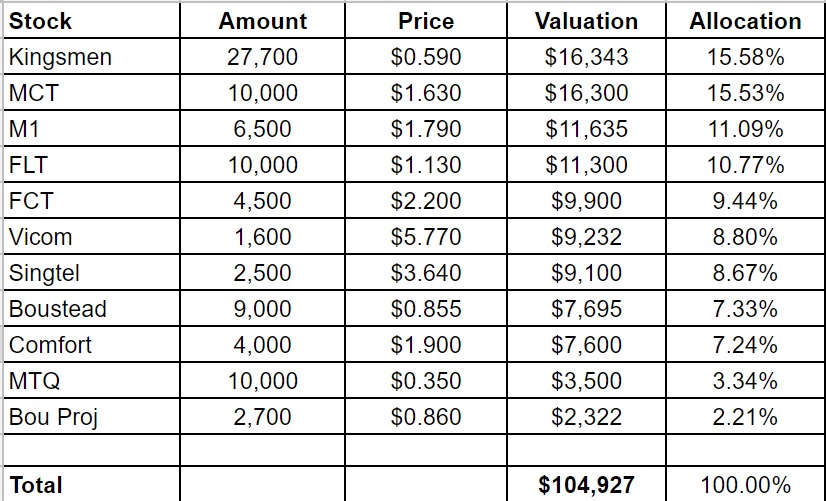 Annualised Return: 6.7% (Nov 2010 to Dec 2017)
---
3. DWI Picks
I subscribe to Dr Wealth Insiders (DWI) as a form of diversification. Only time can tell if I had made a good choice. And for obvious reasons, I will not be revealing the make-up of this portfolio. However, I can probably still document it by noting down a few comments and indicators below.
The sub-portfolio, largely made up of small caps, is lagging way behind the indexes for this year. Does it mean it's a good time to add? I actually think so.
I am almost definitely sticking to this strategy for at least 5 years before fully evaluating it.
Portfolio Value: $74,449
Number of local stocks: 6
Number of international stocks: 4
Annualised Return: 4.0% (Sep 2016 to Dec 2017)
---
4. Warchest
This is the amount of cash or cash equivalents we have that is ready to be deployed into the markets.
There is a small increase of $1,000 since we received some bumper dividends.
Warchest Value: $88,000
---