I shall admit it.
I take a lot of pride in the quality of our Ministers in the Singapore Cabinet. As a junior policy officer working in a Statutory Board some years ago, I got to observe DPM Tharman and Minister Tan Chuan Jin first-hand and I was rather impressed by their astute decision-making skills and all-round brilliance.
Therefore, when NTUC invited me (among other much more prominent online influencers) for a sharing session with their Secretary-General Chan Chun Sing, I jumped at the chance.
Oh, I forgot to ask him if Yeo's soya milk really tasted THAT fresh…
====================
Who Is Chan Chun Sing Exactly?
Unless you're totally apathetic towards Singapore politics and social issues, you will probably have some idea who he is.
This is the guy who became the youngest Minister in the Cabinet after the 2011 General Elections and even now, is slated for bigger things in future. How big? My guess is that he has a good and realistic chance of taking over the most popular politician (>800,000 likes) in Singapore.
However, it doesn't help that SG Chan's public image has taken quite a few beatings in recent years, especially on social media. A quick search on google would likely yield some memes and gifs that are at least half-mocking him for his perceived goofiness.
And after meeting him in person yesterday, my take is that his down-to-earth persona and his humility might have been (maybe maliciously) misconstrued.
Top-notch credentials
This is a guy who graduated from our rigourous education system with flying colours, and was awarded the prestigious President's Scholarship in 1988. He also rose through the ranks in the Singapore military to become the Chief of Army.
Ok, you might argue that he was identified early and groomed for success and thus, scoff at those national achievements.
But did you know that he was the first foreign student to be conferred the "Distinguished Master Strategist Award" in the US Army Command and General Staff College (CGSC) in 1998? That's one of the highest accolades a military man can possibly strive for.
A smart photo of SG Chan (rare on the internet)
My take is that compared to the available home-grown competition, he must have been significantly better by some distance to have won the award. And that's a sign of world-class talent for me.
With such credentials, you might think the common man might find it hard to relate to him. However, the reverse can't be truer.
Heart is in the right place
SG Chan didn't put on any airs and spoke to us in plain English yesterday. Occasionally, some Singlish were also sprinkled in. The whole atmosphere was light-hearted and actually akin to a class gathering.
I really like the fact that he is a simple man and of course, to a personal finance blogger, it helps a lot that he's really frugal. As I mentioned in this tribute to LKY, when you're a frugal person and less beholden to money and materialism, you are in a better position to fulfil the vision and mission you set for yourself. 
Proof?
I spotted his no-frills Casio digital watch which is most probably a more basic model than mine. Furthermore, he drives a second-hand Japanese car.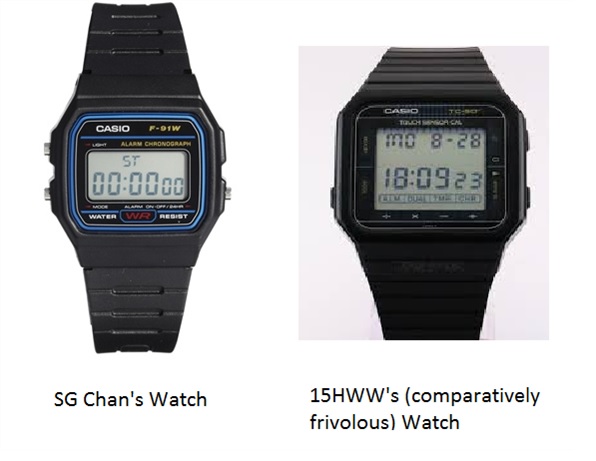 Since his lifestyle doesn't really require a high salary and he believes that entering politic is "the whole family's contribution to national service", my hypothesis is that like most other ministers, despite the public scrutiny, SG Chan is in this job because he wants to be in a more influential position that allows him to better serve Singaporeans' interests.
What I Learnt From Chan Chun Sing?
I was disappointed that I didn't had a chance to ask him questions like:
1. What's your savings rate and what do you invest in?
2. Which is your favourite hawker dish and colour?
3. The age of second-hand cars that provide the best value? 
Nonetheless, the session was enriching as I was given an Economics and Psychology lesson by SG Chan.
Singapore: Socialist Heart In Capitalist Clothing
Let me illustrate with fuel as the good.
Singaporeans always compare the high fuel prices in this country with those of neighbouring countries, where fuel is subsidized. And most Singaporeans hanker for lower prices and believe that lower prices are in their welfare. But is it really so?
Let's take a look at a simple example below:
1st Scenario: Price of fuel was kept low at $1 per litre 
Rich Man
Average Man
Price of Fuel
$1 per litre
Quantity Consumed per Month
200 Litres
100 Litres
Government Revenue
$300
Outcome: The rich man pays $200 for fuel every month since he travels more on his oil-guzzling luxury European car while the average man pays $100 to run his no-frills and more fuel-efficient car. 
2nd Scenario: The price of fuel is taxed heavily and the price goes up to $2 per litre
Rich Man
Average Man
Price of Fuel
$2 per litre
Quantity Consumed per Month
200 Litres
100 Litres
Government Revenue
$600
Outcome: Both the rich man and the average man pays double the amount and the Government Revenue increases to $600.
And this is when Singaporeans cry foul, castigating the government for profiteering from the hard-earned money of Singaporeans. But is that really the case? What if the extra $300 was redistributed back to the average man and the poor man in the form of social transfers?
| | | | | |
| --- | --- | --- | --- | --- |
| | Rich | Average | Poor | Govt |
| Fuel Payment | -$400 | -$200 | $0 | $600 |
| Transfers | $0 | $120 | $180 | -$300 |
| Final Outcome | -$400 | -$80 | $180 | $300 |
In the end, compared to the 1st scenario, only the rich man is paying more. The average man saves $20 and the poor man, who can't afford a car and doesn't spend any money on fuel, actually gains $180 from others' consumption of fuel.
I think most of us would agree on such a social contract, where the poor receives more help from the government. So isn't Scenario B a better option?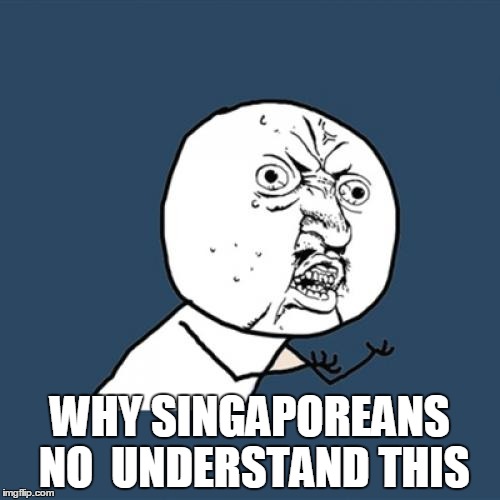 This applies for GST on even basic items like rice and sugar since the richer are more likely to consume more. You could also replace fuel with other goods like COEs and alcohol and the argument and conclusion will stay the same.
Why Scenario B, Like The Government, Is Under-Appreciated
In Singapore, there's actually a lot of social transfers back to the middle class and the lower income in the form of housing, education and healthcare subsidies. However, these transfers are not well-appreciated by the general population as they are largely undetected by most social indicators.
Moreover, in the hypothetical example, the average man sees the high price of fuel on a daily basis whereas the rebates are likely given only once a month. Therefore, psychologically, he's likely to be full of angst whenever he has to top up his petrol and might easily "complain" about the government. And when rebates like GST vouchers get credited to his account, he tends to "forget" about them.
But sadly, in the name of effectiveness, the government has to stick with this arrangement and bear the brunt of psychological biases. Talk about getting the shorter end of the stick, even when the heart is socialist.
And so, the above is what I found out after an afternoon with SG Chan.
====================
I actually used to think that consumption taxes are regressive by nature since that's what was being taught to us in Economics but Singapore's unique model shows us that this might not be the case.
In fact, right now, I believe that consumption taxes are better at taxing wealth than income taxes. If there's no consumption taxes, a retired man living in a landed house and driving a Mercedes Benz would literally pay no taxes. In my humble opinion, that's not an ideal outcome for society.
I shall end here before I spout even more Economics and turn you off. Yeah, I am in the Keynes mood, all thanks to the lesson by SG Chan.
And lastly, here's my picture with SG Chan yesterday: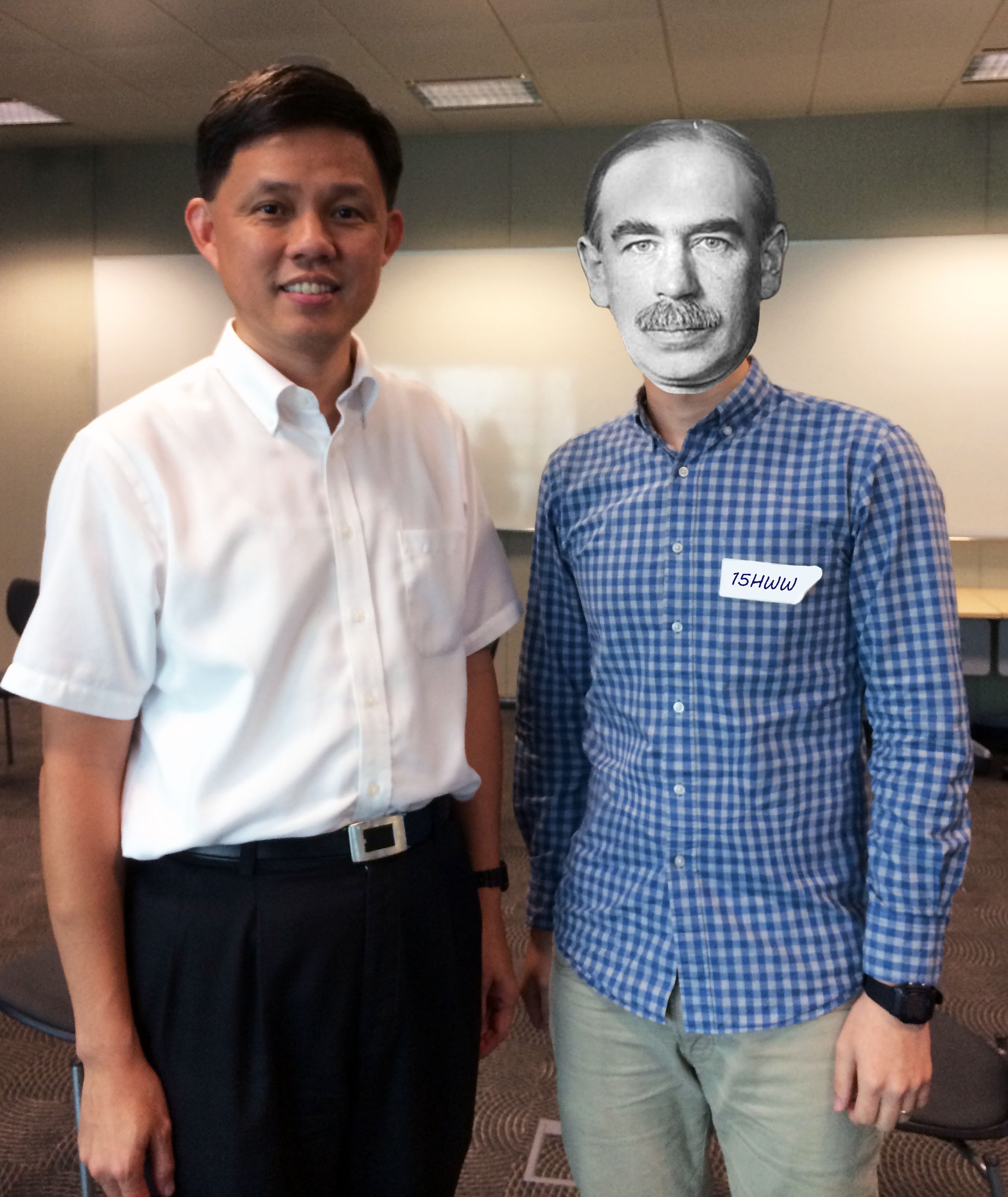 I think SG Chan (an Economics major) would likely have enjoyed a conversation with the legendary Keynes
(P.S. Can you spot our Casio watches in the pic?)