On Optimisation
"Huh? I have to eat Cai Peng everytime because it's the most value-for money? What's the point of retiring early then?"
"What?! Manage 10 bank accounts? You should spend your time on activities that can potentially generate more income for you."
If optimising something becomes too tiring or too ridiculous, it's probably time to take a step back. Optimising can be an addiction too.
But how to define "too tiring or too ridiculous"? Well, it really depends on the capacity and situation of that individual. What I find reasonable might just be too tiring for you.
On Benchmarking
"Wow. They are earning almost $15,000 a month yet can only save 40% of their income. If I were them, I could retire in <10 years. They are way too frivolous."
"Huh?! Cannot splurge at hawker centres and must learn to make $1 meals at home? I rather work 10 more years than retire early. This is too extreme."
Everyone always feels that they are at the optimal level already. Someone who "makes more effort" is often labelled as too extreme while someone doing less is simply "not trying hard enough".
Well, whatever floats your boat. For me, instead of ruminating on the above, I think about what I can potentially learn from these two different people and prefer to see them as part of the same community with similar mindsets.
Afterall, the differences is probably minor in the grand scheme of things.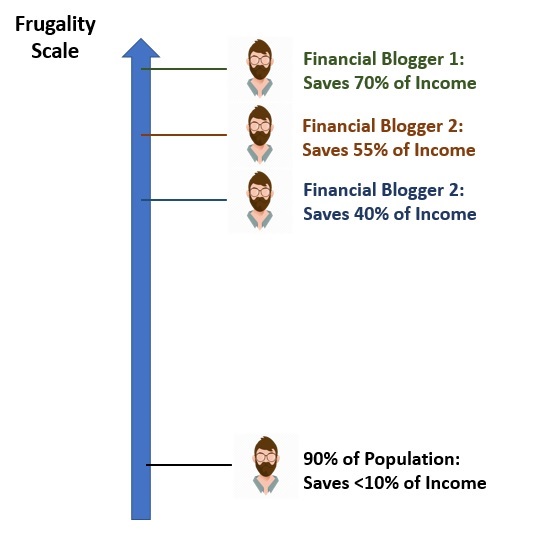 "Those financial bloggers are CRAZY!"
---
This is my first attempt at "a SMOL and CW8888 type" short post. And this reflection came from some of my thoughts after reading the recent few posts by Finance Smiths and ERSG.