Almost a year ago, I presented a case for buying a little bullion and proceeded to purchase 25 pieces of silver coins from BullionStar. Since the coins only added to around $600, I really wouldn't regard it as a BIG investment.
However, two Fridays back, things changed. At least slightly.
I actually made a trip to the Gold Department at UOB Main Branch and parted with ~$2600 to purchase a 50 Gram PAMP gold bar.
And here's the steps I did before grabbing a free train ride to Raffles Place.
---
1. Why Am I Buying Gold?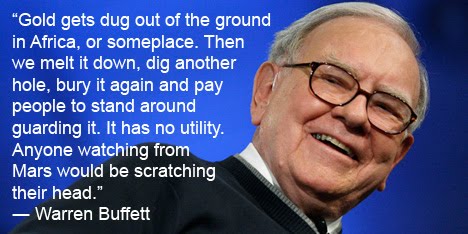 I am largely with Warren on this. Unlike stocks and businesses, gold doesn't really provide any real utility to consumers in general. Any investment returns are likely to be speculative in nature.
If you were somebody holding alot of gold throughout the 80s and 90s, it would have been a painful experience watching the stock market go on a bull run. Gosh, I probably wouldn't wish that on my worst enemy.
Now, so why am I buying gold then?
Basically, I see bullion as an alternative currency to hard currencies which include our Sing Dollar. Look, I definitely believe in the strength of our currency and the resilience of the country.
However, it doesn't hurt to diversify. After all, no one can guarantee that our good life will carry on indefinitely for the next 50 years. Perhaps you would also be less sanguine after reading more about the plight of the Rohingyas and the humanitarian crisis in Syria.
So yes, I am looking to build up a small portfolio of alternative currency. And gold is one of these currencies.
2. Which Size Should I Buy?
Since I view bullion as more of an alternate currency rather than an investment, it has to satisfy the characteristics of money in economics.
Therefore, silver isn't as appropriate since $10,000 (an amount I would likely build up to in a year's time)worth of silver is really quite heavy. As it has to be divisible easily, anything more than 100g is likely not to be very useful.
However, one can't go too small either. As the quantum decreases, the spread increases. The spread can be up to 50% for a 1 gram gold bar.
I settled for a 50 gram PAMP bar as the spread was a reasonable 3% to 4% and $10,000 could get me about 4 of them.
3. Who Should I Buy From?
Here's a comparison of the prices from UOB and BullionStar:
50 Gram PAMP gold bar
| | | |
| --- | --- | --- |
| | Selling Price | Buy Back Price |
| UOB | $2,725 | $2,622 |
| BullionStar | $2,721.56 | $2607.21 |
100 Gram ARGOR gold bar
| | | |
| --- | --- | --- |
| | Selling Price | Buy Back Price |
| UOB | $5,372 | $5,248 |
| BullionStar | $5,375.21 | $5,213 |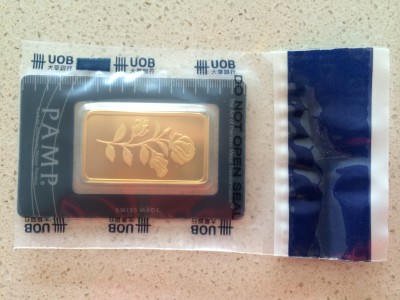 Besides being more reputable, UOB charges a lower spread for both the 50 Gram & 100 Gram gold bars. Although one would have to pay a slightly higher price for the 50 Gram gold bar from UOB, the higher buyback price more than makes up for it.
If I build up enough of these currencies, and gold prices somehow soar through the roof, I would definitely be inclined* to sell part of my holdings.
Therefore, it was a no-brainer for me to go with UOB on that Friday!  😉
* I was told at the counter that the UOB seal cannot be broken. Otherwise, UOB will not buy back the gold. And if the receipt is not furnished, $100 will be deducted from the buyback price. 
Addendum: Physical gold and paper gold are now an integral part of our portfolio. And with an increased asset base, instead of looking at 50 gram gold bars, I am more keen on 100 gram gold bars due to a lower spread.