The market had a mini sneeze during the past couple of weeks and the 15HWW portfolio was not spared.
The portfolio rose slightly by $1k to reach $415,000 but if we took into consideration an injection of around $2k+, this is another relatively poor performance organically.
On the transactions front, this was a busy month as there were quite a few trades executed.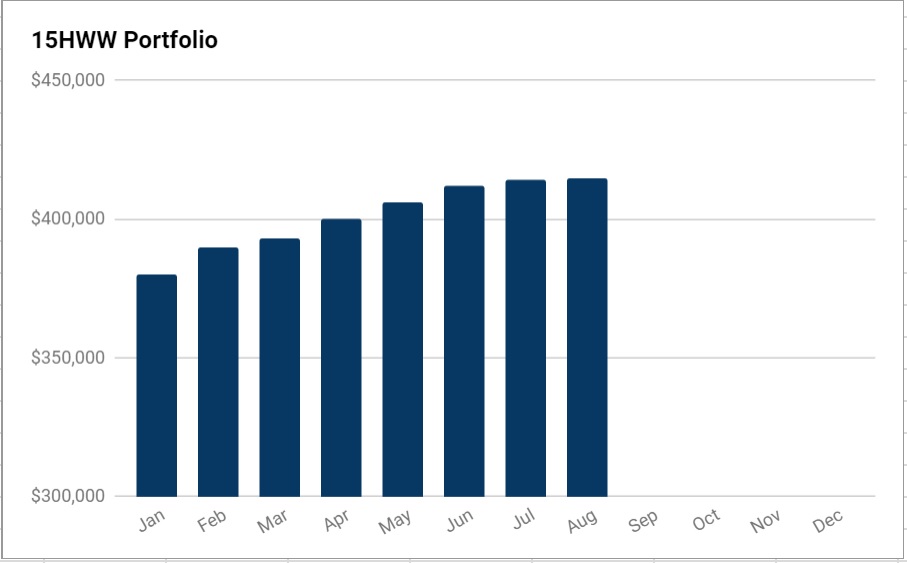 ---
1. 15HWW Permanent Portfolio
Earlier in the month, the USD actually dipped to USD 1 to SGD 1.36 but recovered back to 1.37 right now.
Interestingly, with the strong performance of the STI ETF (due to banks and developers), Berkshire B and Gold so far, the Permanent Portfolio is the best performing sub-portfolio for me. That's even with cash and bonds "dragging" the returns. Luckily for me, this is by far the biggest sub-portfolio in terms of quantum. 

USD-SGD Rate: 1.37
UOB 50 Gram PAMP Gold Price: $2,810 x 6 = $16,860
Annualised Returns: 7.4% (Jan 2017 to Aug 2017)
---
2. Personal Picks
Lots of trades. I sold off the entire stake of ST Engineering @$3.83, CCT @$1.72 and the additional shares of STI ETF I had at $3.35. The latter two were sold just before they went XD, so you could see I didn't time those sales "perfectly".
Some of the proceeds were channelled to two fallen darlings of the market. M1 @$1.9 and Comfort @$2.3. Both of them have continued declining and I am prepared to average down if they drop >10% from my last buy price.
Interestingly, most of the REITS are holding up nicely but this will probably be an area I will avoid adding for now.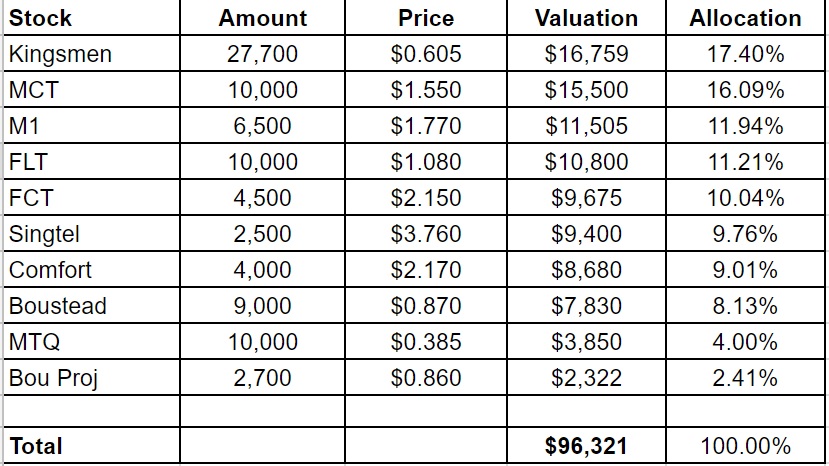 Annualised Returns: 6.8% (Jan 2017 to Aug 2017)
---
3. DWI Picks
I subscribe to Dr Wealth Insiders (DWI) as a form of diversification. Only time can tell if I had made a good choice. And for obvious reasons, I will not be revealing the make-up of this portfolio. However, I can probably still document it by noting down a few indicators as shown below.
In just about one month, the small $2k profits I had so far from this sub-portfolio evaporated. A couple of stocks declined quite severely (>10%) after some poor quarterly results. The annualised return is down to about 0.7%. I am bracing myself for worse to come before things turn around. In fact, I even took the opportunity to add one more stock for further diversification.
Portfolio Value: $85,738
Number of local stocks: 7
Number of international stocks: 4
Annualised Return: 0.7% (Sep 2016 to Aug 2017)
---
4. Warchest
This is the amount of cash or cash equivalents we have that is ready to be deployed into the markets.
Besides the sale proceeds, we managed to pump in another $2k+  to the warchest this month.
Warchest Value: $76,000
---