With much lower income coupled with higher expenses, there is no cash injection to the portfolio in November. And it showed.
So yes, there was no make-up on. And the portfolio isn't like my Mrs who continues to thrive without powder, eyeliner and the likes. Left to the vagaries of the market, the portfolio has turned quite ugly this month. The equity portion easily dropped by >1%.
In the end, for the first time this year, month-on-month, the portfolio actually decreased in value. It dropped by $3,000 to reach $425,000.
I guess the good news is that cash is piling up after a big sell and I might have an additional bullet or two if a correction comes round the corner.
Overall Portfolio (Value: $425,000)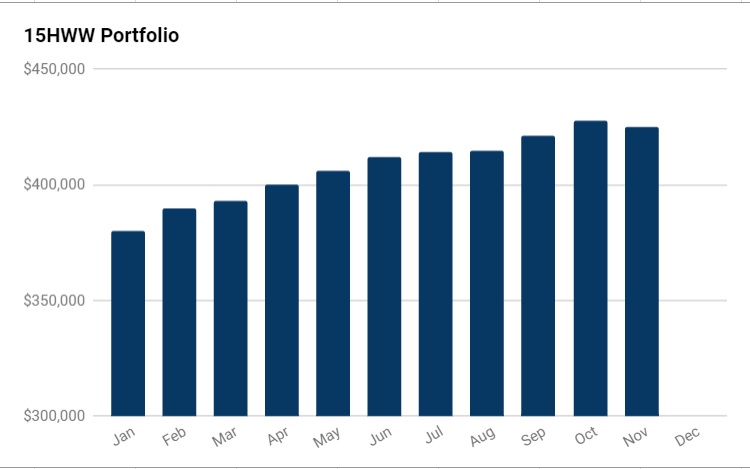 ---
1. 15HWW Permanent Portfolio
Interestingly, the STI ETF actually did pretty well compared to last month's update. But it was more than offset by the decline in Berk B as the share price dropped close to 3%.
The cash position was also slightly boosted by the coupons from a tranche of SSBs. Guess more time is needed for this sub-portfolio to breach $160,000. 

USD-SGD Rate: 1.36
UOB 50 Gram PAMP Gold Price: $2,807 x 6 = $16,842
Annualised Return: 6.6% (Jan 2017 to Nov 2017)
---
2. Personal Picks
Nothing interesting for this sub-portfolio and it pretty much maintained its value and returns as compared to last month.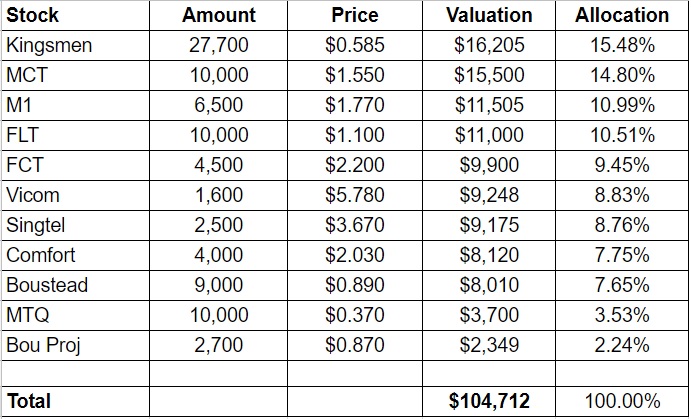 Annualised Return: 6.7% (Nov 2010 to Nov 2017)
---
3. DWI Picks
I subscribe to Dr Wealth Insiders (DWI) as a form of diversification. Only time can tell if I had made a good choice. And for obvious reasons, I will not be revealing the make-up of this portfolio. However, I can probably still document it by noting down a few comments and indicators below.
This sub-portfolio is probably the main culprit for the drop in portfolio. Compared to last month, there was almost a 3% drop in its value.
There's a new buy which is balanced out by a sale. Since Dr Wealth has already written about it quite extensively on their blog, I will reveal that it is Ellipsiz. Half a year ago, I bought 15,000 shares @$0.555 and sold off all of them @$0.83 a few days ago, mirroring their move.
Nonetheless, the returns till now is pretty disappointing and lags the STI by a big margin this year.
Portfolio Value: $75,020
Number of local stocks: 6
Number of international stocks: 4
Annualised Return: 5.2% (Sep 2016 to Nov 2017)
---
4. Warchest
This is the amount of cash or cash equivalents we have that is ready to be deployed into the markets.
Even after accounting for a purchase, the sale proceeds added another $4,000 to the warchest.
Warchest Value: $87,000
---