We just came back from Taipei a few days ago. It was a 8D7N trip and we only covered two provinces: Taipei & Yilan. If you're reading because you are looking for ways to save money on a vacation to Taipei, you really should look elsewhere. That's because we spent close to $3,000 on this trip, even though we took a budget airline.
This is our 4th time in Taipei for the past 5 years. There's a few reasons why we enjoy ourselves there alot. Firstly, both of us are fluent in Mandarin and Hokkien and it's not an issue for us to put on that little bit of Taiwanese accent to blend in even better. Secondly, the weather is in that exact sweet spot during months like April & November with day temperatures hovering between 20 to 25 Deg C. Next, there is a great variety of activities to enjoy, from shopping to hot springs to day hiking on trails.
And lastly, it's cheaper than Singapore, Korea or Japan. So in that case, why did we spend much more this time round as compared to previous trips? Is the hedonic treadmill in force and we needed to spend more to achieve the same "high"? Or it's just us spending in search of newer experiences?
Find out below. (Warning: lots of random rambling and some Mandarin.)
The Flights
I am not a frequent flyer and has probably been on less than 30 flights in my entire life, a 50/50 mix of traditional carriers and budget airlines so far. But the flight to Taipei was probably one of the worst flight experiences ever. Even though we booked with Scoot, we were seated on a small Tiger Airways plane.
It was especially cramped and I was allocated a window seat which meant that it was difficult to get out of the seat to the washroom. My solution was to drink less water which resulted in me being slightly dehydrated when we alighted. Arrgh…
The return journey was the exact opposite because we were miraculously allocated the exit row seats on a much bigger Boeing 787. I really think it's some good karma because we agreed to spend 15 minutes at the Taoyuan airport to help an undergrad with a survey.
Anyway, it's our first time being seated at the exit row and it was totally AWESOME to me.  For eg, nobody could recline in front of me and eat into my already limited space, I could stretch out in front of me or stand up and move around anytime and I have full view of the restroom in front of me and could pop in anytime as and when it's unoccupied.
Even though it was a budget airline with no food and entertainment provided, it was probably the most comfortable flight I ever had. I was fully hydrated with a $4 Evian and could munch on my bread and read on my Kindle on an empty bladder throughout the 4~5 hours on the plane.
Key Takeaway: We are likely going to pay an additional fee to select exit row seats for all our flights in future. (Hopefully this post is not going to go viral and create additional competition for us. )
Shopping (Bags, Shoes & Wallets)
Occasionally, we do see purchases of Chanel bags, Cartier rings and Chopard watches appearing on our FB feeds and the Mrs will remark to me that these are what her friends receive as wedding anniversary gifts.
In my humble opinion, these are Level 3 items that we cannot afford at this point in time, and likely in the medium term too. However, it's a whole different ball game for Level 2 items which are 5-10 times cheaper than Level 3 items.
Level 2 items probably include stuff like a Porter bag or wallet and Onitsuka Tiger sneakers. These are probably another 5-10 times more expensive than Level 1 items but I reckon they tend to last at least twice as long and are at least twice as comfortable/presentable.
And a wallet, a Lanyard and two coin pouches are what we got from Porter. It's not the first time we bought stuff there as the previous time we were in Taipei, I let loose a little and got myself a Porter bag that costs close to $400. This time round, it's $300 for those items. They are also easily 30% cheaper in Taipei as compared to Singapore.
Both of us have never paid more than $100 for a pair of sneakers before and an Onitsuka Tiger that retails for close to $200 in Singapore was probably out of our budget. But in Taipei, an upper range design could be had for around $130. We were pleasantly surprised at how comfortable they were when we tried them on for the first time. In the end, I bought two pairs and the Mrs purchased one.
There's a backstory to the above.
We stepped into an Onitsuka Tiger store in Xi Men Ding 西门町 and spent some time in the store since it was our first time trying on the shoes. #noobs
In total, we spent about half an hour in the store and during this period, there were a few groups of customers that came in and actually bought some shoes within minutes. We were quite awed and the sales person tried to "educate" us when we asked whether there were any discounts or GST rebates. 
This is a Japanese brand and it's already priced the most competitively in Taiwan. So no discounts and GST rebates. So which designs do your like?

Oh, your are not getting the shoes? Your are really a unique couple. Everybody else comes in and grab the shoes once they find their sizes. 
The next day, we decided to try our luck at Shin Kong Mitsukoshi 新光三越 beside Taipei 101. As the mall was celebrating their anniversary, we managed to get a 20-25% discount on the shoes and also received a 4% GST rebate. 
Yup, it pays to make some basic effort to shop around. 
Key Takeaway: We have probably accumulated enough ad earn the right to let loose a little occasionally and indulge in some Level 2 items that we like. Especially when the spending is in line with our values.
Food & Dining
We skipped Din Tai Fung 鼎泰丰 this time round and opted for Hai Di Lao 海底捞 instead.
Even though we heard rave reviews from friends and relatives, we always baulked at the high prices and long queues in Singapore. So it's our first time trying this Si Chuan 四川 concept when we were in Taipei.
And yes, we are completely smitten and hooked.
We had four soup bases similar to the picture above but we ordered way fewer meats, balls and vegetables. In the end, the bill only came up to about $60 which was a steal given that there was free flow fruits and sugar cane to chew on. Not to mention free flow of Haagen Daaz icecream!
But the highlight was really the impeccable service and entertainment. I was really impressed with the way they handled our jackets and bags and the sincere recommendations to aid our orders. Besides the usual performance when ordering the la mian 拉面, there was also a bian lian 变脸 performance.
There was even a free manicure thrown in although the Mrs had to wait 3 hours for it. It was ok since we just spent that time shopping at Porter and Onitsuka Tiger. When we came back, I got to enjoy more ice-cream and a massage too!
Key Takeaway: Spending a bit more money can sometimes create new and unforgettable experiences too! 
Bonus Sharing
We are pretty 随性 when we travel and besides booking the hotels and 民宿, there was no itinerary planned out for the trip.
In fact, we only started putting together a rough plan during the flight to Taipei!
And when we were in Yi Lan 宜兰, a chillax place, we just relied on the hosts of the 民宿 for recommendations and advice. So on the second day in 宜兰, we ended up in 礁溪 town with the intention of walking some trails and appreciating some good scenery.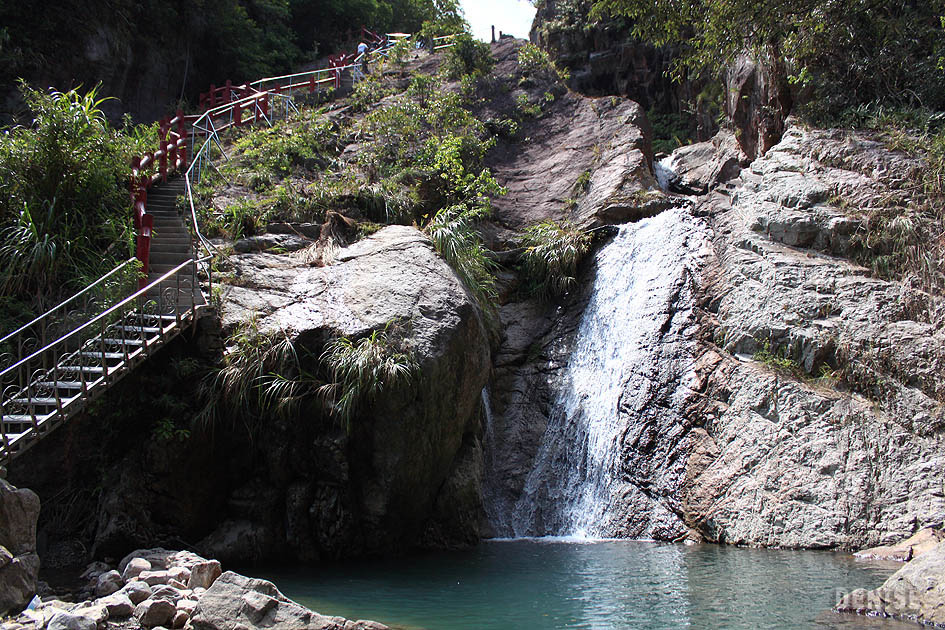 When we arrived at the station which was pretty deserted, we were in the same lift together with a young Singaporean family (we heard them speaking in English) and started chatting them up. Coincidentally, a couple of hours later, we bumped into each other on the same shuttle bus and the Mrs and I sort of tagged along their itinerary for the rest of the day.
It was very much a win-win situation. It was their first time in 宜兰 so we could offer them recommendations. The Mrs and I also enjoyed playing baby-sitters to their 7-year-old and 4-year-old kids which gave the couple some respite. The Mrs also had a shopping companion when we were at 罗东夜市 and truth-be-told, our day became much more interesting as a result.
Interestingly, from our conversations, we managed to suss out that they were pretty-well-to-do. But still, that didn't stop them from walking 10 minutes up some slope to get to a hot spring 温泉 that most locals go to. With two kids and a pram in tow. Kudos to them!
On the way up the slope, I actually whispered to the Mrs that I would have probably settled for a more touristy and accessible place and maybe paid $20 more if we had two hungry kids with us. LOL. I think we are developing a knack for attracting like-minded people into our lives!
This was probably our most value-for-money experience as we only paid about $14 to use this private hot spring 温泉 room for 50 minutes.
When we returned to our 民宿 and told our hosts the place we went for our hot spring 温泉, their jaws dropped. This was the place they often go themselves but they did not recommend it to any of their guests as they felt it was just too inaccessible and maybe a little too rustic.
Hah! Singaporeans for the win.
Key Takeaway: It's nice to add some randomness to our lives, especially on holidays when we are not hard pressed for time. And yes, Singaporeans in general are pretty impervious to tourist traps!
---
I can't think of a good and proper conclusion to the above. Just lots of rambling and well, pardon me because this blog does serve as a journal for the biggest fan of this blog (me) sometimes. *Shrugs*