Like most hot-blooded young men, I was first exposed to the insurance industry's sales tactics at the tender age of 19. While I was waiting for my bus to get to camp at Pasir Ris MRT station, a good-looking female insurance agent approached me, wanting to share with me the benefits of a good insurance plan by arranging for a one-to-one session.
That proposition proved to be irresistible. I handed out my contact information, and the rest is well, history.
Besides buying a conservative endowment plan (which I had liquidated at a small loss many years ago) during those NS years when I first experienced drawing an income, I had also bought this Investment-Linked Plan from AIA called the "Achiever" plan. It was sold to me as a savings plan, where I would set aside $100 each month, 50% invested in China funds and another 50% in India funds. 15%-20% returns were touted back in the roaring mid-2000s when China and India were booming and I was hooked.
It had seemed such a good use of my money then. After all, I was investing in some hot growth funds instead of squandering it away by opening bottles in clubs or purchasing a PSP. But alas, all I was doing was fattening the wallets of that pretty insurance agent and of course, AIA. Here's the reasons why this policy was such a lousy deal for me:
====================
1. Failed to recoup my capital
By the time I surrendered this policy in Feb this year, I had been holding this policy for 8 years and 1 month. That's $9,700 poured in. But the withdrawal value was only about $8,900! Even if I had just put the money under my pillow for the past 8 years earning 0% interest, I would have been better off with an extra $800.
Ok, this Achiever Plan did come with some insurance coverage, so you might think that a significant amount could have gone to cover those premiums. But then, 8 years ago, I had opted for the lowest insurance coverage available for this policy, which was $6,000. This is less than 20% the amount covered by my Dependents' Protection scheme (DPS). And well, DPS only sets me back by $40 a year. I shall rest my case here.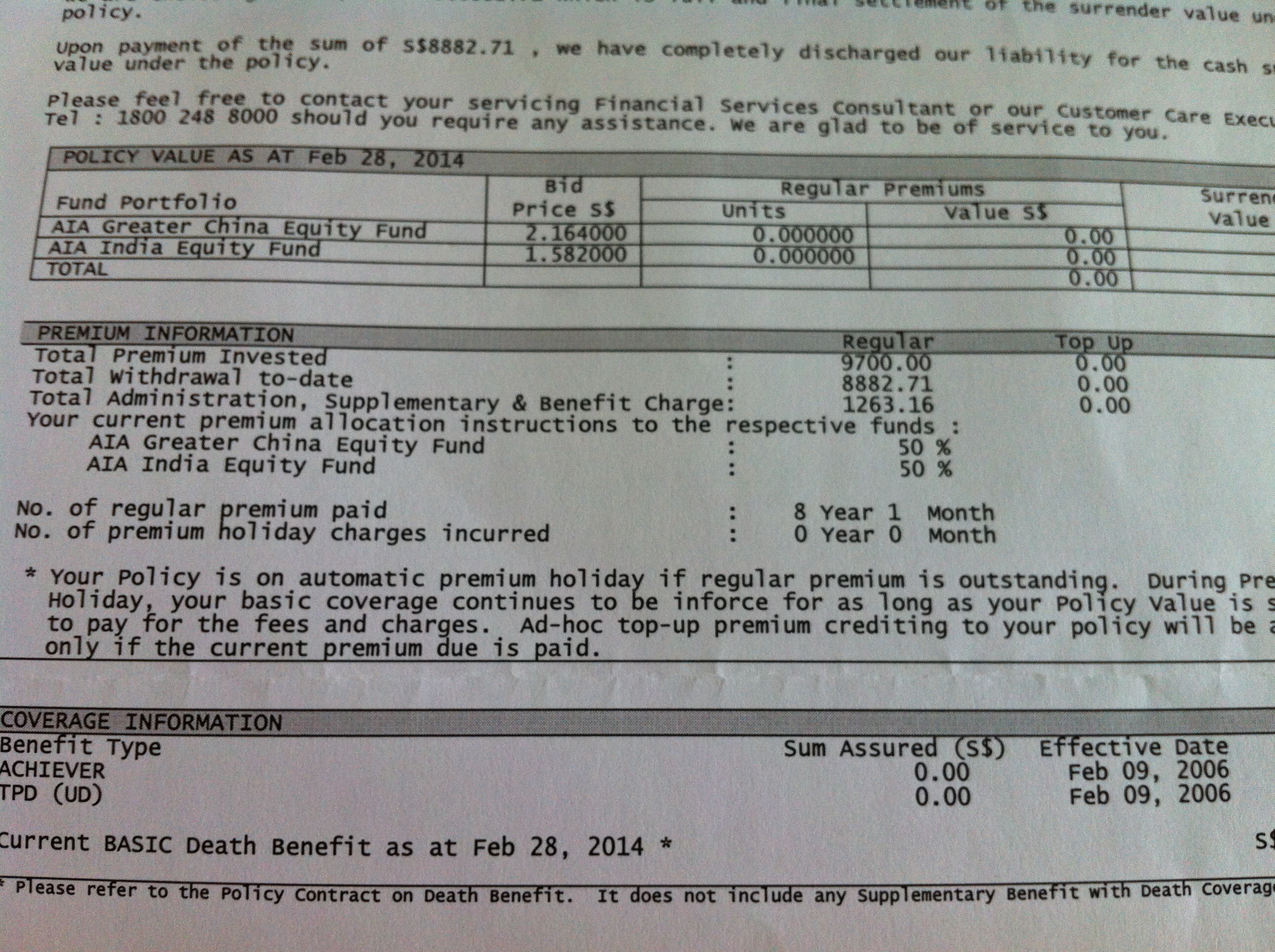 2. Hefty Expenses
This also brings me to the next point. By the time I had surrendered the policy, it was stated that I had spent almost $1,300 on admin, supplementary & benefit charges. It's obvious the premiums for the insurance coverage would not have exceeded $300 over the entire 8 years, which leaves us with $1,000 unaccounted for.
Wait. It's actually accounted for since that's probably the admin and distribution charges, which are just nicer terms for money that goes to AIA and the pretty insurance agent's and her supervisors' pockets.
This plan was very likely a winner for both company and agents since Mrs 15HWW also bought the exact same product as me a few months later. You could imagine my shock and disdain when I found this out about 5 years ago. I guess the Achiever Plan really lived up to its name,  "achieving" a lot for the company, at the expense of policy owners like me.
3. Opportunity Costs
There was a wonderful pre-commitment device built into this policy (yeah, I am being really sarcastic here). If I had terminated it in Year 4, AIA would impose a 65% charge on the value of my investments and even in Year 8, the charge was a significant 15%. The hefty penalties meant I really had little choice but to keep the policy going even when I knew this whole thing was a mistake early on.
If I had access to that few thousand dollars, there was a good chance I could have started my investment journey earlier in 2008 or 2009 and caught the bottom of the stock market cycle? So my loss could really be in the thousands, much higher than the $800 stated earlier.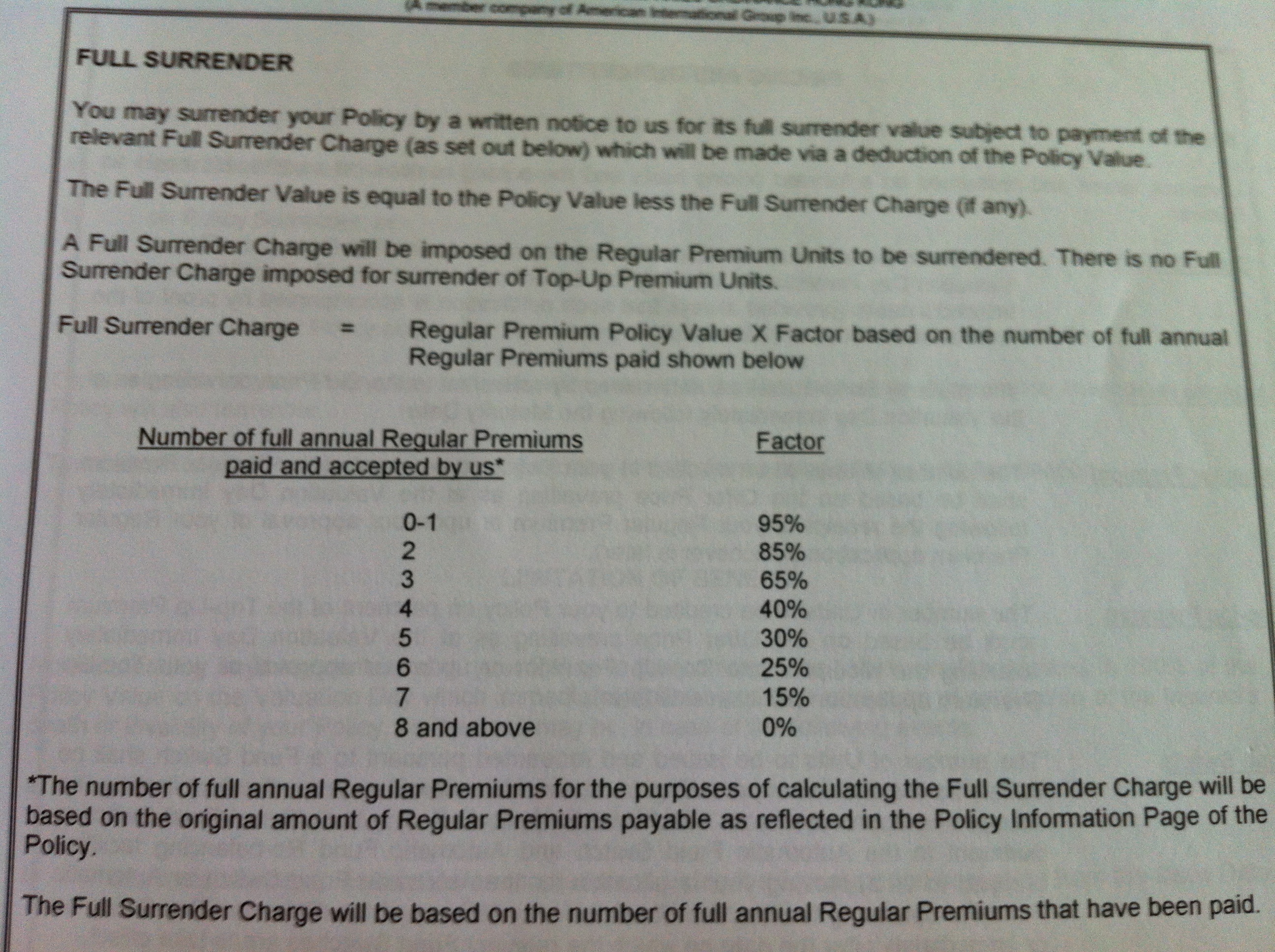 ====================
Lesson learnt? It's important to know if that other person's incentives and motivations is aligned with your well-being. That's why I am much more in favour of a fee-based model in the insurance industry compared to a commissions model. As what Buffett famously said, you wouldn't really want to ask a barber if you need a haircut.