TL;DR:
If I were still on the HDB Concessionary Loan for the mortgage of my flat, I would switch over to the POSB Home Loan in a heartbeat.
Why? $23,000 of savings and perks over a decade. Read on to find out how.
---
WHY I AM LOOKING AT HOME LOANS AGAIN
1) Prefer Lower Mortgage Rates
As mentioned in this earlier post, by refinancing from the HDB Concessionary Loan (HDB CL) to a bank loan 4 years ago, I was able to take a small advantage of the low SIBOR rates with some form of certainty, knowing that my mortgage interest would definitely not be above 2.5% for the next decade.
And right now, I am interested in paying even lower mortgage rates.
In this low interest rate environment, some banks have started to move away from the more volatile SIBOR rates and peg their home loans to more stable bank deposit rates like the Fixed Deposit Home Rate 9 (FHR9).
Assuming conservatively a home loan package where the mortgage rate is FHR9 +1.35%, the effective rate would currently be at 1.6%. If I were on this package, my estimated monthly instalment would decrease from $1,009 to about $931, giving me additional savings of $80 a month, which will work out to $1,000 a year!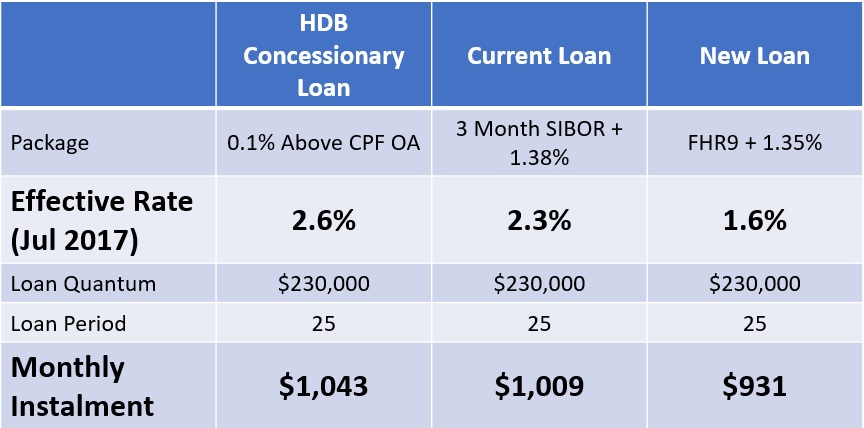 I am willing to give up the security of an interest cap for even more mortgage savings.
2) Arbitrage CPF OA Funds
If I had $200,000 in your CPF Ordinary Account (OA) and an outstanding $200,000 home loan, what should I do?
Option A: Pay off the entire loan immediately
Option B: Continue with monthly instalments
If I were on the HDB CL, using all the CPF OA funds to pay off the loan is an obvious choice, since I could save 0.1% of additional mortgage interest. Furthermore, becoming debt-free is a notable financial milestone.
However, if I were on a bank home loan with an effective rate of 1.6%, Option B might be a savvier decision.
For a 20 year loan tenure at 1.6%, the monthly instalment would be $974.
As the CPF funds are generating higher interest, even if $974 is deducted monthly over 20 years, at the end of the 20 year period, I would be left with an amount close to $25,000. (Refer to spreadsheet for the calculations)
There is nothing to lose and everything to gain especially when there is no penalty on a full-repayment. Just pay off the loan when/if the floating mortgage rate on the home loan rises significantly.
Instead of using our CPF OA funds to pay down our housing loan, we prefer to keep it for an arbitrage right now.
3) Reduced Risk With Significant Cash & CPF OA Buffer
I hear the naysayers now.
What if the FHR9 soars after the first few years? Like becoming 3%! You will be paying much higher monthly instalments and you will live to regret abandoning the HDB CL!
Just take a look at this comparison of 3-month SIBOR rates and DBS's FHR9 rates below.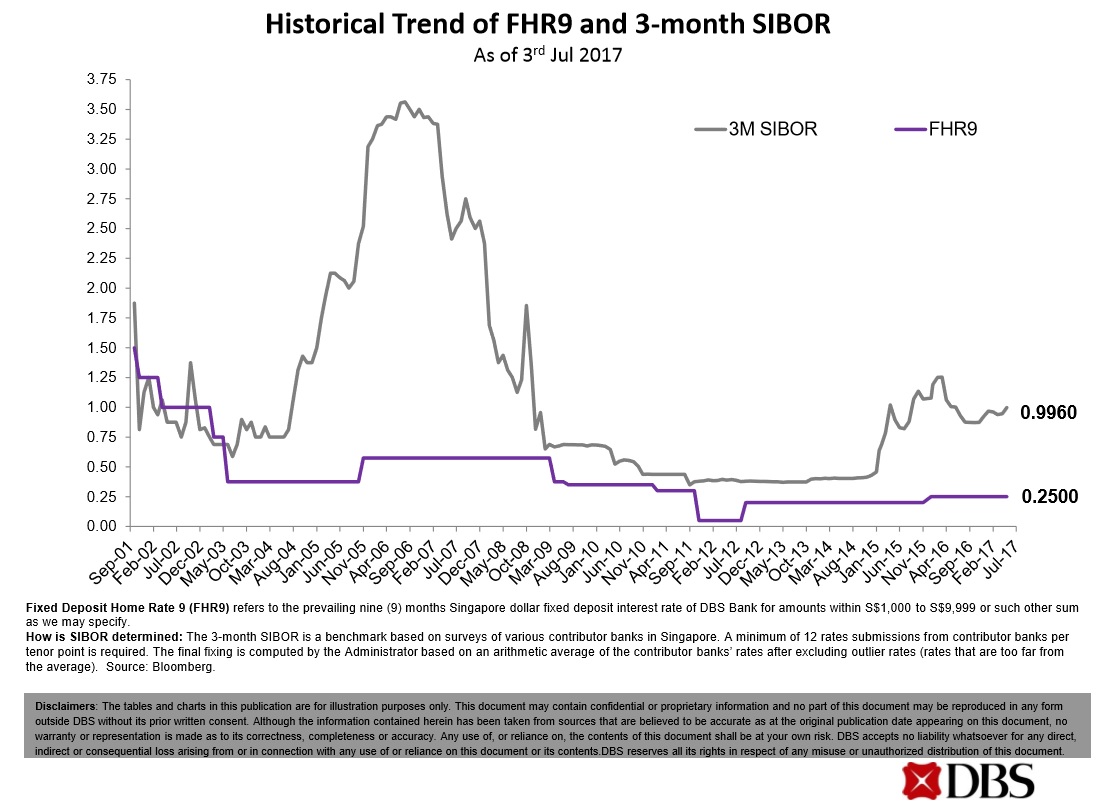 Source: DBS
From the chart above, the last time FHR9 + 1.35% was higher than the HDB CL rate of 2.6% was 16 years ago. So the chances of FHR9 suddenly soaring is really pretty low.
Furthermore, the Mrs and I have close to $50,000 in our CPF OA funds and we are also sitting on more than $50,000 of cash at this point in time. We are also planning to build up an additional $50,000 in government bonds over the next two to three years.
The risk of being caught with our pants down by rising interest rates is quite minimal. With our CPF and cash buffer, we could pay off most of our housing loan if need be.
---
WHY THE POSB LOAN IS A GREAT REFINANCING OPTION
1) Various Options To Suit Your Needs
Although I am personally keener on the floating interest rate package so as to enjoy a lower interest rate now, I can understand that there are some who prefers the certainty of a fixed interest rate. But it is important to choose the right fixed rate period.
For example, if you are thinking of selling your flat 3 years later, you could select the 2 or 3 year fixed rate package* to enjoy guaranteed mortgage savings for those 2 or 3 years.
2) Save Up To 1% On Your Home Loan
Yes, saving up to 1% for your HDB home loan is not a hypothetical situation, as seen from the interest rate option above.
When you switch to the POSB Home Loan, take a good look at how much you could save.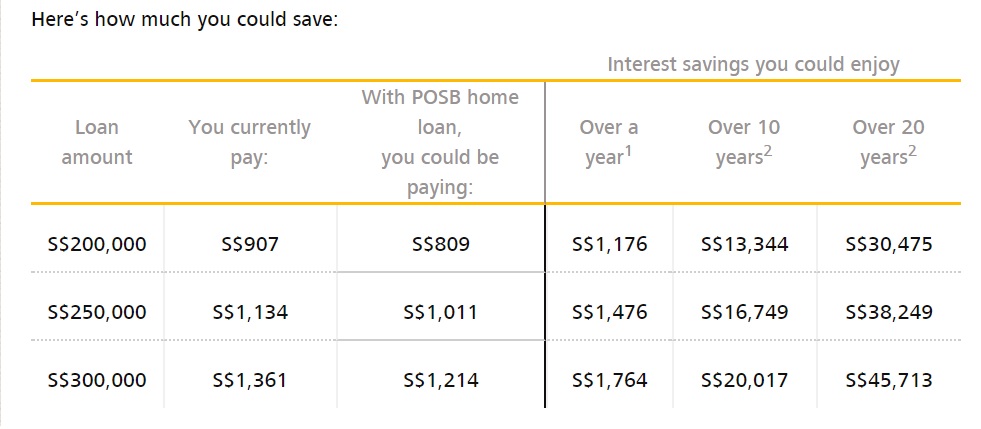 Notes:
1 Interest savings are estimated based on 1.60% p.a. interest rate for a 25-year loan, compared to HDB concessionary loan rate of 2.60% p.a.
2 Interest savings is compounded at 2.5% p.a. (CPF Ordinary Account rate) in your CPF Ordinary Account)
You can click here to calculate your savings when you switch to a POSB Home Loan.
3) No Refinancing Fees & A Free Dyson Vacuum Worth $999!!!!!!!!
You can switch your loan free-of-charge as POSB will absorb your legal and valuation fees amounting to $2,000.
Well, the Mrs has been wanting to get a Dyson Cord-free vacuum. It's cool and fabulous but the price tag is crazy at $1000!!! The good news is that with this offer, you can now get it for free with POSB! 
All you need to do is to share your refinancing experience on this deal with your friends on Facebook or Instagram. Get 8 likes and a free vacuum will be on its way to you.
---
BONUS FEATURE: POSB CASHBACK BONUS
If you are thinking why I have not considered refinancing with another bank, here's the answer: POSB Cashback Bonus.
For the past few months, both the Mrs and I have EACH received >$30 of cashback through this scheme. That's a total cashback of more than $60.
Our Three Qualifying Components:
Our Home Loan with POSB which we are attempting to reprice.
POSB EveryDay Card. We use the Everyday Card for our EZ link transactions and I also charge my utility and conservancy fees to it.
The POSB Invest Saver is a pretty good saving and investment program, especially for beginning investors. Both of us started a $100 contribution to the Nikko STI ETF.
The 3% cashback on our mortgage has been so….. rewarding.
You can click here to find out more about our experience with the POSB Cashback Bonus.
---
Summary
If you have an outstanding home loan close to $230,000 like me, the interest savings would add up to $15,000 over a decade. Including the free vacuum cleaner and the potential cashback from the POSB Cashback Bonus, we are looking at a mind-blowing $23,000 of savings and perks in total!
So really, consider the POSB Home Loan Promotion!
*For the fixed rate packages, there is a lock-in period which will be the same duration your rates are fixed for i.e. 2-year fixed means 2-year lock-in. A 1.5% fee of outstanding loan amount will be incurred if you sell off your flat and/or prepay your loan within the fixed-rate period. So, it is important to choose the right fixed rate period.
---
This article is written in partnership with DBS Bank. I only believe in promoting products and services that I would use myself, and when I believe they are of value to my readers too. The views in this article are strictly mine.