Introducing The New DBS Multiplier Account
In early October, a friend alerted me to the revamp of the DBS Multiplier Account. She had received an email which mentioned that DBS will be adjusting the interest upwards to 3.5% come 1 November 2017.
I was quite privileged to be invited to a pre-launch briefing by DBS in late October and I was blown away by the attractiveness of the new DBS Multiplier Account.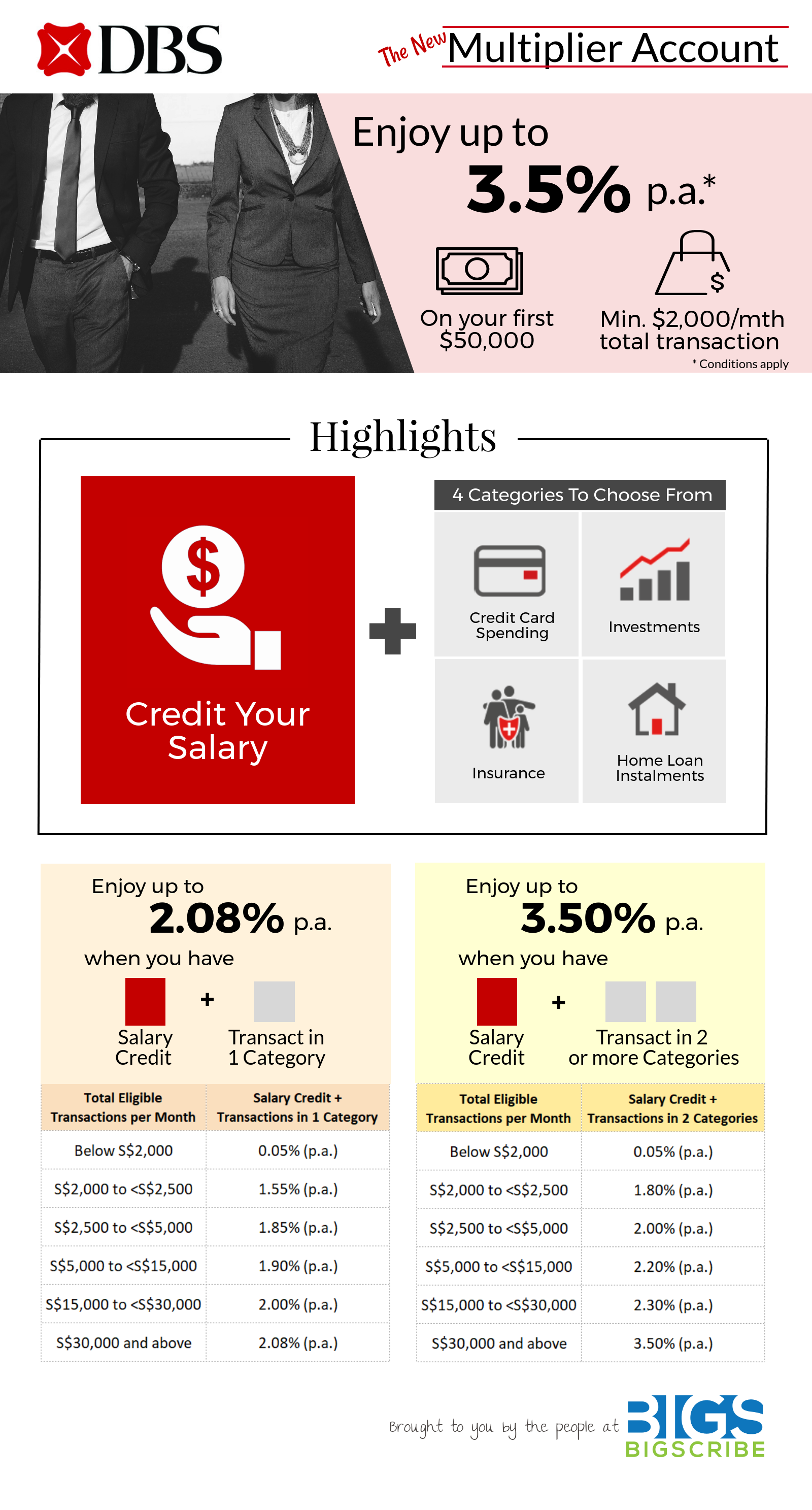 Why I Think It's A Great Savings Account
Just a Salary Credit + 1 Category would allow you to enjoy up to 2.08% of annual interest on the first $50,000 balance.
There are 4 categories to choose from and honestly, I really think it's not difficult to qualify at least 2 Categories to enjoy up to 3.5% of annual interest on the first $50,000 balance.
As a testament to the DBS Multiplier Account's flexibility, for the credit card category, one could transact from ANY DBS/POSB credit cards available in the market.
It's so Easy to Qualify
There is no minimum amount required for any individual category.
$2,000 minimum salary credit? Nope.
$500 minimum credit card spending? Nope.
You can earn significantly higher interest once the total eligible transactions exceed $2,000!
It's so Simple and Rewarding
With no minimum credit card spending, there is no need to track expenditure or overspend just to meet a criteria. It's fuss-free!
There is also no need to keep your saving balances above a certain amount to enjoy the higher interest rates. The same interest rate applies throughout the first $50,000 of your saving balances.
Products like the POSB Invest-Saver also encourage easy entry into the Investment Category.
Young Millennials (Like My Brother) Rejoice!
My younger brother (YB) is aged 23 and living under the same roof with us. YB has an Accountancy Diploma and is currently pursuing his ACCA certification.
He only started working full-time about a year ago and is drawing a gross salary of $2,000 at an SME. After deducting his CPF contributions, he has a salary credit of $1,600.
Since he's a frugal millennial with no dependents, he does not really spend much and on average, clocks about $250 on his credit card on transport, dining and entertainment. He can continue using The DBS Live Fresh Student Card which he received during his Polytechnic days. It is a great credit card for him and can also be used for EZ-Link transactions.
And upon my encouragement several years ago, he started his investment journey, setting aside $200 every month and investing it in the STI ETF with POSB Invest-Saver.
However, unlike the Mrs and I, he has not been able to take advantage of higher interest saving accounts. Since his salary credit is below $2,000 and his credit card expenditure is below $500, he could not qualify for any of them in the market.
But the game-changing New DBS Multiplier Account is a godsend for folks like my Brother.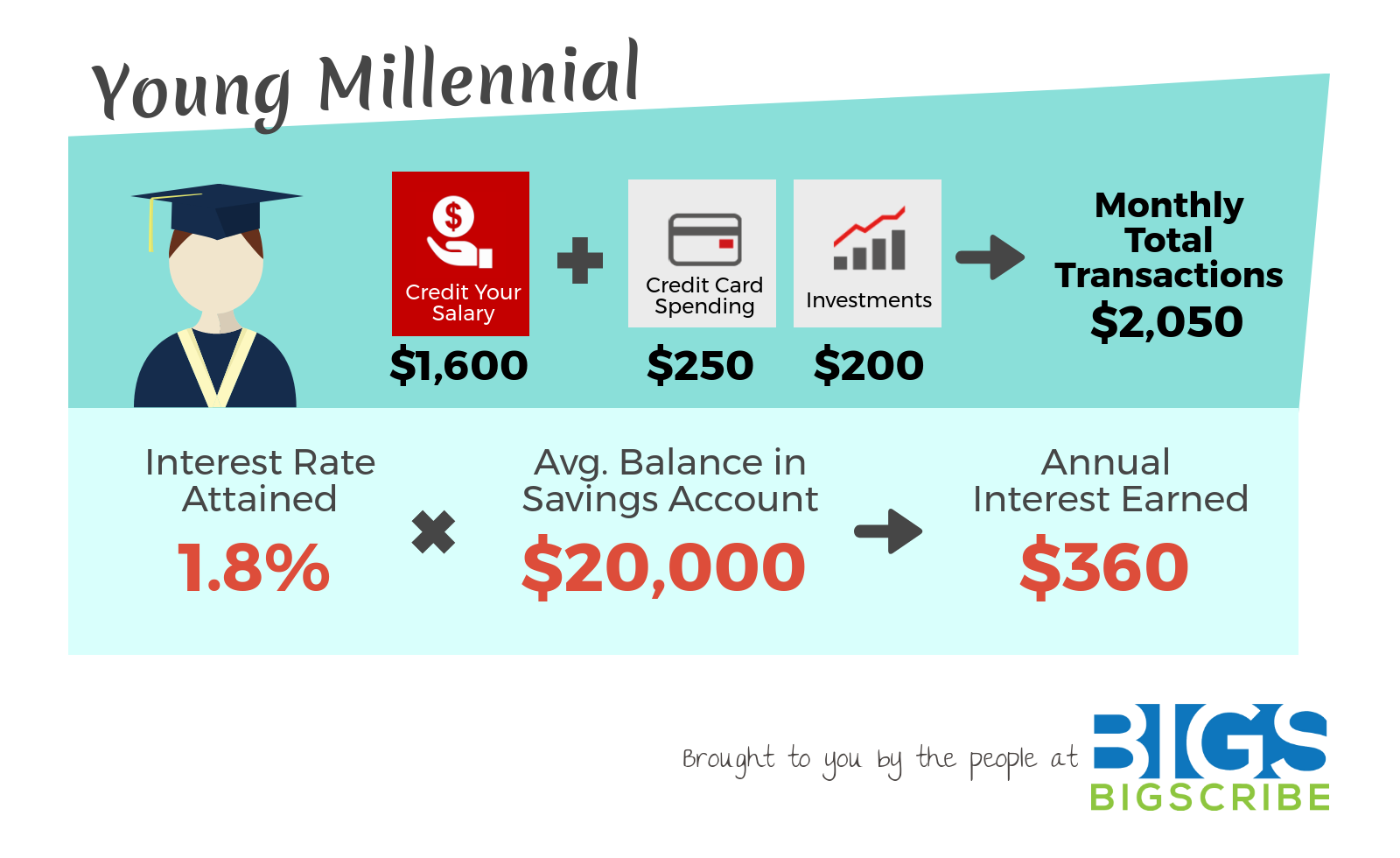 Since he has about $20,000 of balances in his savings account, from now, he can earn $360 of annual interest. It is an amount not to be sniffed at and can definitely help offset some of his ACCA course fees.
Grow With DBS Multiplier
The DBS Multiplier Account also offers long-term value to millennials like my brother. As financial commitments increase and we pursue more aspirations, we can earn both higher rates of interests and higher amounts of interest with the DBS Multiplier Account.
Changes in our life include:
Increases in Income
Buying a house and taking on a Home Loan
Forming a family and purchasing Insurance for protection
Increases in Investments
Increases in Saving Balances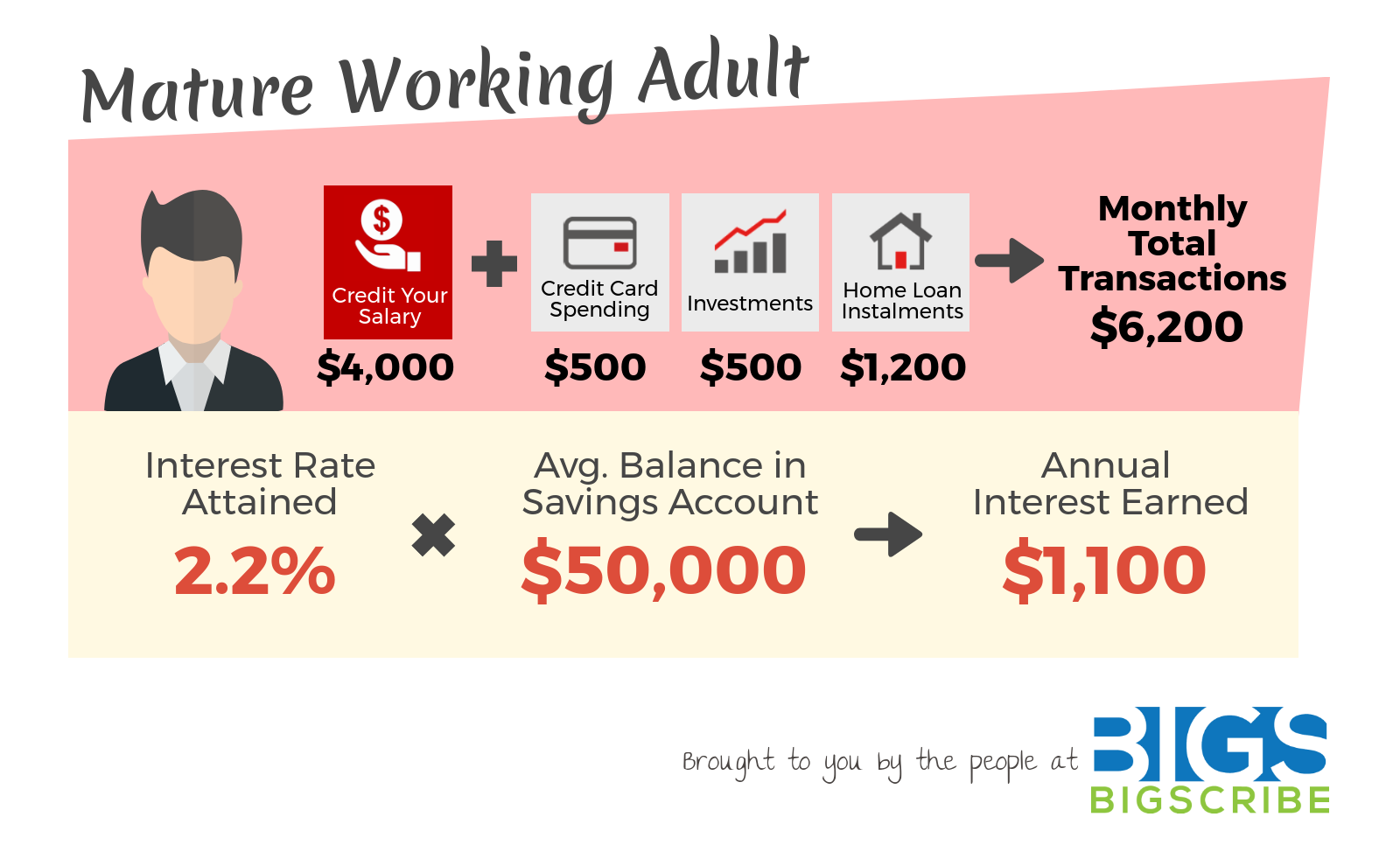 Conclusion
The DBS Multiplier Account caters to our need for flexibility as we begin to learn how to manage our finances. It's simple, easy to understand and most of us can qualify for it once we step out into the workforce.
It's a hassle-free account that retains liquidity yet provides higher interest.
So sign up for the DBS Multiplier Account today!
---
This article is written in partnership with DBS Bank. I only believe in promoting products and services that I would use myself, and when I believe they are of value to my readers too. The views in this article are strictly mine.