Like many other financial bloggers, I logged in to the CPF website a week ago. The CPF interest for 2017 were finally credited.
However, unlike other financial bloggers, I have neither done a CPF OA to SA transfer nor performed any Retirement Sum Top-Ups to my CPF accounts so far. And as a self-employed, I have also not made any Voluntary Contributions (VC) to my CPF accounts.
The only contributions I have made in the past two years were the mandatory Medisave Contributions as a self-employed.
So it's not surprising that my CPF balances are very modest (even below EI threshold of $60,000), as seen below.

Despite the modest balances, I could still find myself smiling from ear to ear knowing that I had accumulated $2,500 worth of CPF interest for the previous year.
But still, I cannot see myself voluntarily contributing more to my CPF accounts any time soon. Even if the interest is enticing.
Here are the reasons why:
---
1. Quietly Confident Of Achieving 6% Returns Myself
Let me first clarify that I am not bashing the CPF system. In fact, I actually think that the CPF is a great system. Instead of being a defined benefit pension plan, it's actually a much more sustainable defined contribution system (go google it if you don't understand).
And the CPF SA, MA and RA base return of 4% is a really generous risk-free rate, especially considering the strength of the SGD over the past few decades.
However, I am prepared to take some risk and stomach some volatility in search of higher returns. As stated in this post, the aim is to achieve 6% p.a. on average, which I have just about managed to do for the past 7 years.
You might think a 2% difference is nothing. But this is how a 6% p.a return vs a 4% p.a return would look like over 20 years.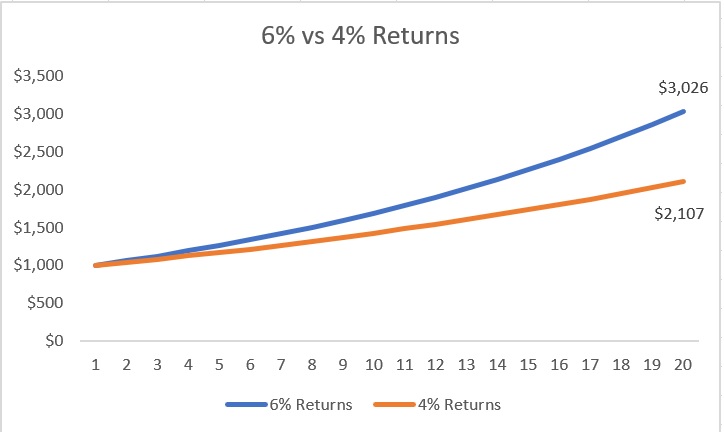 For a $1,000 investment, it would have grown to $3,026 (6% p.a. returns) vs $2,107 (4% p.a. returns) over a 20 year horizon. That's close to an extra $1,000, almost the same amount as the principal!
2. CPF Funds Unable To Provide Short-Term Security
That said, I do understand that the higher returns are not guaranteed. And those who scrutinise the portfolio a little closer would also realise I do hold quite a bit of cash and bonds.
So it's pretty natural to hear this well-intentioned argument:
Dear 15HWW,

Instead of holding so much bonds and cash that provide you with low yields, why not transfer them to your CPF accounts to enjoy HIGHER interest and BOOST your returns?
This reasoning actually holds quite a bit of water.
My UOB One Account only yields about 2.43% p.a., a return lower than the base rate for CPF OA. And the bond with the highest yield for me is the Frasers Centrepoint Limited (3.65% p.a.) Bond. The 3.65% yearly coupon is lower than the 4% p.a. base return of CPF SA and MA.
So rationally, liquidating some of these cash/bonds to top up my CPF accounts would make improve the numbers.
However, in my humble opinion, the biggest perk of money is being able to provide SECURITY. Which my CPF funds cannot provide, at least in the short-term.
I am a self-employed. My income is definitely not as secure or certain as compared to a public servant. The threat of lower income or even no income looms on the horizon, especially if I am suddenly made obsolete by my industry.
Even if I were a CPF millionaire, it would not help with the above. In the hypothetical scenario where my circumstances turn quite dire, there is no way I could access these CPF money (besides medical reasons) if I am below the age of 55.
And yes, I still have more than 20 years to go before turning 55.
So having a 6-digit amount in cash and bonds provides peace of mind and allows me to sleep better. My expenses for the next 4-5 years can potentially be covered by these savings.
Unfortunately, this short-term security is something CPF funds are unable to provide.
3. CPF Funds Unable To Offer More Options In Life
I believe the second biggest perk of money is being able to offer more OPTIONS in my life.
The Mrs and I have about $200,000 of cash, bonds and commodities at this point in time. These  are some of the things we could do tomorrow if we liquidated these assets:
a) Spend it on a dinner or
b) Buy a BMW 320i Shadow Edition Series or
c) Move to Chiang Mai and stay there for 10 years or
d) Slow travel in North America for 3 years or
e) Help my siblings to purchase a house or
f) "Invest" it in cryptocurrencies, hope the money grows to $1,000,000 in half a year's time, then we can do all of a), b), c), d) and e)
Whether any of the above makes sense or not is besides the point. The fact is that I am below 55 and I cannot use my CPF money to pursue any of these options.
Honestly, for some people or even most people, that can be a good thing. But knowing myself, I really prefer to keep my options open for now.
---
Thanks for reading till this far.
I am not sure if you will be surprised to hear this. But if I were a betting man, my wager will be on the both of us wanting and being able to fulfil the Full Retirement Sum when we turn 55.
And surprise, that will likely require some active and voluntary top-ups eventually.
The time to contribute more to our CPF balances will come when we become older, have higher income and also, more assets to our name.
So, The (Yet) is in the title for a very good reason.